LG tasted great success with the LG G4, and the phone was loved by people all around the world. Naturally, a successor to that awesome phone was surely expected, and after a long wait, the LG G5 was finally launched at the MWC 2016. The phone brought in many innovative features that were appreciated by one and all, like the removable battery, modular design, and the various accessories available for the phone.
Apart from that, LG also launched the LG G5 Lite silently in Russia and this model came with the Snapdragon 652 SoC. And today, a new model LG-K530 has been Spotted on Geekbench running Android 6.0.1 Marsmhallow. As you can see in the screenshot below, the codename for the device is "LED LG-K530" and it carries an ARM Qualcomm processor that has got 8 cores and is clocked at 1.40 GHz.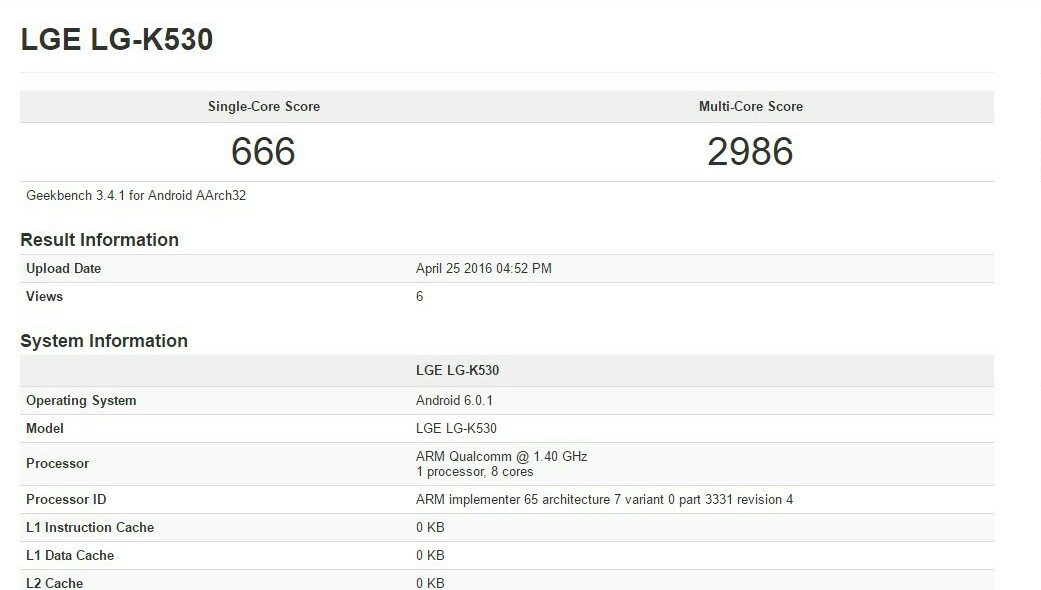 Is it the Snapdragon 615? Or is it Snapdragon 652 under the hood of this unknown LG device? Well, we don't know yet, but you can submit your guesses in the comments below. Meanwhile, the fact that the alleged LG K530is running Android 6.0.1 Marshmallow and an octa-core 1.4GHz CPU might be an indication that this is a mid-range device.
But then again, we don't know much about the device and need to wait for more details. We guess this device might get 3 GB RAM, but let's keep the guesses to a minimum to avoid wrong rumors. Stay tuned for more updates.