A mid-range smartphone codenamed LG H840 has been bench marked at GFXBench and it is most likely going to be the LG G5 Lite. LG's flagship, the G5 codenamed as H830, was benchmarked recently. What was thought to be a more advanced version of the LG G5 is now a lighter version as confirmed by the reports. It is most probably going to be unveiled at the MWC 2016 which is to be held this month in Barcelona.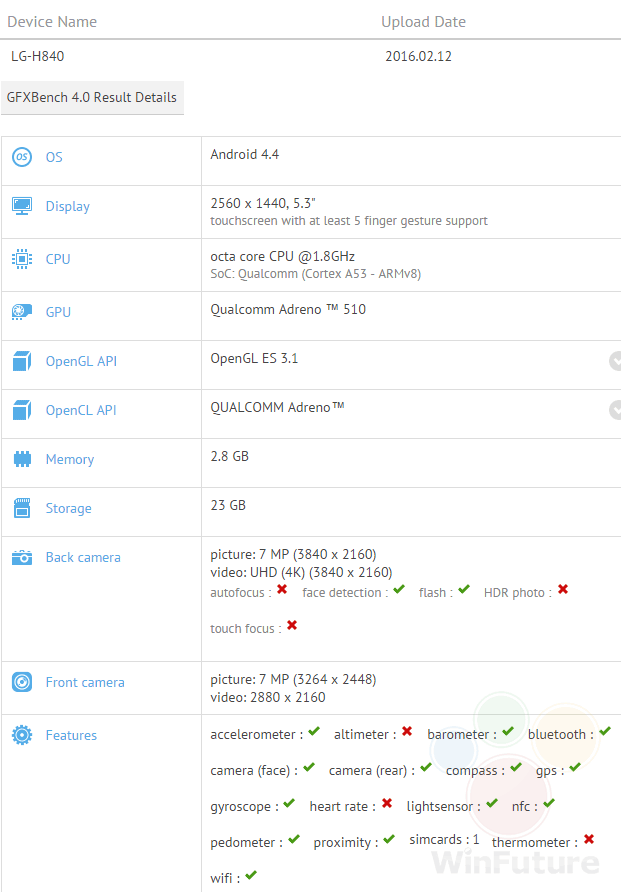 Specs wise, the LG G5 Lite is going to be a well-performing mid-ranger. At the heart of the phone is the Snapdragon 652 octa-core CPU. It comes with four A72 cores and four A53 cores. Coupled with the octa-core processor is the Adreno 510 GPU which is an improvement from the previous generation of GPUs in terms of performance and efficiency. The LG G5 Lite comes with a 5.3-inch Quad HD display along with 3 GB of RAM. The screen is slightly smaller than the G5 but it is the processor that sets them apart. The G5 is rumored to come with the top rated Snapdragon 820 at its heart.
But there are some discrepancies in the benchmark reports regarding the camera and the operating system. According to the reports, LG G5 Lite comes with Android 4.4 KitKat which is slightly surprising for the devices unveiling in 2016. Also, the cameras are listed as 8MP at the front and rear. It is common for benchmark reports to give out the wrong details regarding the camera and it has been witnessed many times before.
What do you guess, are we going to witness the LG G5 Lite launch at MWC 2016?