A quartet of alleged live pictures of upcoming LG G4 made the rounds online. A XDA-Developers Forum member posted the online pictures.
The pictures show that a stylus will be packed by LG G4. The accessory can be found in the top right corner of the phone.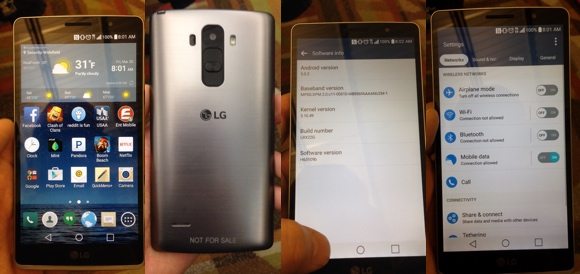 All in all, the look of the LG G4 seems to follow that of LG G3 and LG G2 smartphones. The apparatus appears to sport a screen that is somewhat curved – in line with previous gossips. The pictures show the LG G4 boots up Android 5.0.2 Lollipop.
Based on company sources in LG's homeland South Korea, you might not require lots of waiting from this time on. The LG G4 is set to launch by the end of next month (April). This implies its official unveiling should occur in the the next 1-2 weeks.
The phone should sport a 5 inch QHD display with 2560 x 1440 pixels resolution.
According to Analysts, LG should sell approx. 15 million G4 handsets in one year, and 9.2 million out of total should occur in 2015 itself.