After Google announced the latest Android 6.0 Marshmallow at the 29th September event, it was declared that all the Google Nexus devices would be receiving the updates soon. It did not take a long time for the news to develop and soon we got to know that the Moto X (2nd Gen) might get the update soon. And fresh news suggests that other OEMs will be providing the update soon to their flagships.
HTC has given a confirmation that it will be releasing Android 6.0 for its present flagships, while some latest rumors suggest that LG might skip Android 5.1.1 and might roll out the Marshmallow update directly. Some relevant data has been found on the company's Korea-specific support page and the data indicates that the LG G3 and LG G4 devices will be getting the Android 6 Marshmallow update soon. LG hasn't announced it officially, but screenshots of the support page clearly show a new category for "Android 6" apart from the previous versions.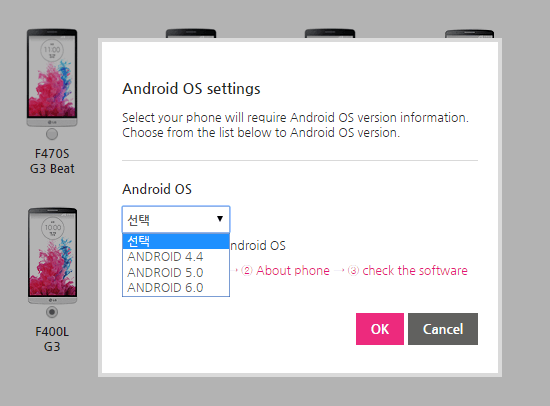 Though that is the end to the news and when one clicks on the Android 6 category on that support page, it automatically redirects to an irrelevant page. However, it is clear that LG does intend to bring the latest Android to its LG G3 and G4 smartphones.
Talking of LG smartphones that are queued up for the Android 6.0 update, the list includes LG G3 F400K, F400L, and F400S, LG G4 F500K, F500L, and F500S are the only smartphones queued up for Marshmallow. Other LG G3 variants are not included, but we're sure they will eventually get the update too.