As we have been saying all the time, LG is quite active with the Android 6.0 Marshmallow update and has been sending it out to its phones slowly now. The LG G4 Marshmallow update has already started seeding across Europe and the U.S. after the soak tests in Korea and Poland. The 1.55GB large software update is being impatiently awaited by LG G4 users.
Chris Yie, Vice President and Head of Marketing Communications for LG Mobile Communications Company, said:
"By working closely with Google, LG has been able to bring Android 6.0 to the G4 ahead of any of our competitors. While speed alone isn't an indicator of great service, it does go a long way toward giving consumers the confidence that LG is committed to its existing customers first."
Well, enough of the LG G4. Let's talk about the older LG G2 Marshmallow update. It was being earlier said that the G2 might not receive official Android 6.0 update and that custom ROMs were the only option left for it. However, a new leak suggests otherwise.
The LG G2 was spotted in a Geekbench test by Napidroid, and it was running Android 6.0 Marshmallow. While this does raise our expectations, you must remember that benchmarks have a considerable margin for error, and this entry could also have been faked. But we still would be delighted to hear about an official LG G2 Android 6.0 Marshmallow update roll-out.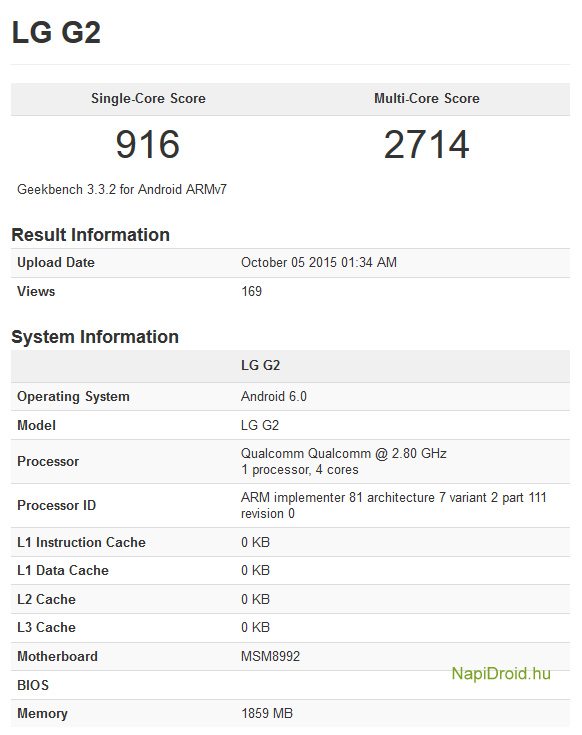 Apart from that, the LG G Flex 2 is rumored to get Marshmallow soon, though no official confirmation has been given as of now. Meanwhile, LG G3 might get the Android 6.0 update by February-end.