LeTV Max Pink and Gold editions were announced in a special event today by the manufacturer, as expected. In a teaser which released earlier, there were some images with a punch line that said 'will give you some more colors to see!'. This has been stamped by the launch today.

Apart from colors, these special edition devices will have a screen of sapphire glass, which is considered the strongest glass in the market so far. The Sapphire glass will cover the entire display, which will make it a perfect shield against abrasions and scratches. This sapphire glass has an excellent quality for light transmission that allows images to be clear and vibrant.
With additional CNC machining, the Pink edition has become even better, thanks to its rigorous process of color toning and finishing. The process has also, however, made it a costlier device than its counterpart in gold. The Gold edition of the device will be available in the market as CNY 5888 (US$ 924) whereas the beauty in pink is priced at CNY 6188 (US$ 972). Both of these phones are priced a little higher than expected.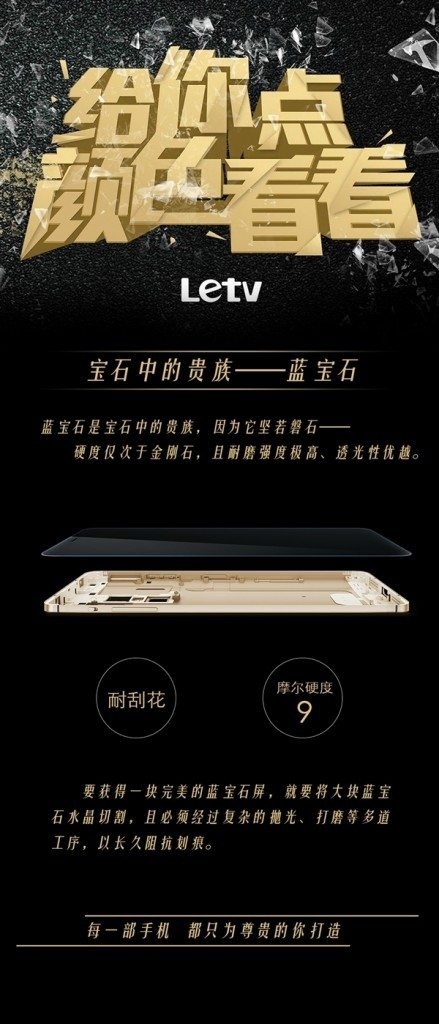 Both the variants will have a 6.33 inch display with a 2K resolution. Powered by Snapdragon 810 octa-core 64-bit chipset, it houses 4 GB of RAM and 128 GB of external storage. With 21MP camera on the flip side, it has a 4MP Ultrapixel camera in the front. Both the devices will be juiced up by a 3,400 mAh battery and will run on Android 5.0 Lollipop with its own proprietary user interface on top. The icing on the cake are the special VIP features like TV subscriptions, additional security features, VIP hotline, and special luxury packages apart from other goodies.
As expected and continuing with tradition, the LeTV special edition versions will be limited to 10,000 units only. However, the launch date for these devices is yet to be announced by the company.
Any takers of these mean machines from LeTV?