Samsung already showed its respect for the 2016 Rio Olympics Games with the Galaxy S7 Olympic Edition smartphone. Lenovo is the next to pay tribute to the legendary games with the ZUK Z2 Rio Edition smartphone.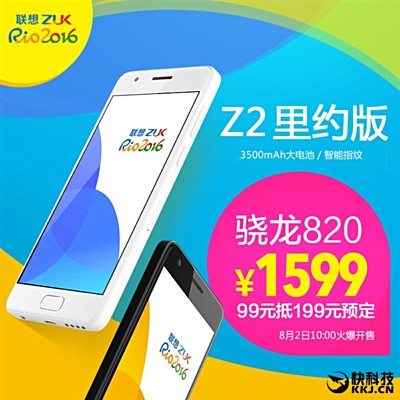 Lenovo has simply rebranded their flagship smartphone for the Rio Olympics. The Rio edition Z2 is similar to the standard ZUK Z2 smartphone apart from a few hardware specs. Instead of 64GB internal storage the Rio Edition Z2 has 32GB and instead of running on a 4GB RAM the Rio Edition will run on 3GB of RAM.
The ZUK Z2 Rio Edition is priced at 1,599 Yuan, which translates to about $240. At that generous price, the ZUK Z2 Rio Edition variant features the Snapdragon 820 processor. Lenovo has not downgraded the clock speed of the chipset in this variant. ZUK Z2 Rio Edition can brag as the cheapest smartphone to sport the SD820 chipset.
Like the ZUK Z2 flagship, this variant features a 5-inch Full HD LTPS LCD screen, 13MP rear camera and 8MP front camera, fingerprint sensor and the ZUI2.0 typical of the latest Lenovo smartphones. The 3,500mAH Li-Poly battery and USB-C port are icing on the cake.
According to GSMArena, there is no physical change to this variant. The device does not have a Rio 2016 Olympics logo anywhere, probably because Samsung is the only mobile partner in the Olympics Games. Tech analysts speculate that the variant will have built-in Rio Olympics wallpapers.
People commemorate huge events like the Olympics, collectibles, and rare objects enjoy good sales during such periods. Smartphones are not the most preferred antiques, but we have seen manufacturers launch editions to help customers remember events. People in China can pre-order the ZUK Z2 Rio Edition at selected stores. The device will be available for sale from 2nd August.