Lenovo Phab 2 is the world's first smartphone to include Tango – a new technology from Google that enables Augmented Reality (AR) gaming and utilities. What sets this phone apart is its Tango Technology – pure magic enabling you to see objects and information overlaid onto the real world. At Mobile World Congress (MWC) in Barcelona, Lenovo partnered with Google to showcase the power of Tango technology. The phone was supposed to hit the stores in mid-September but got delayed. Now it's finally available for $499 in the United States.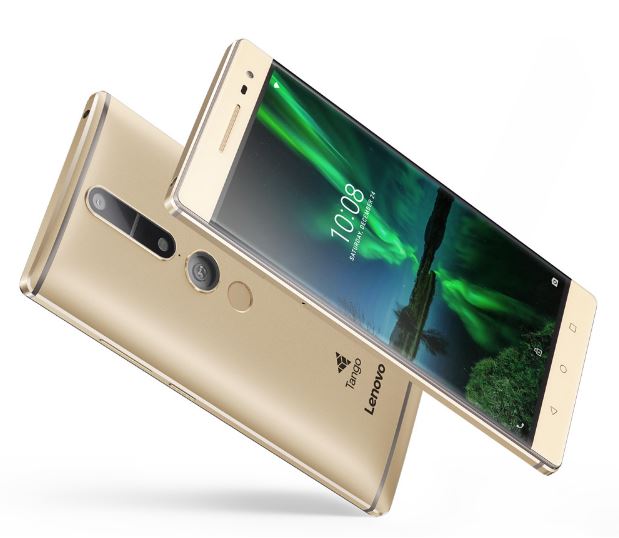 Tango technology aside, Lenovo Phab 2 Pro comes with awesome specifications – Qualcomm Snapdragon 652 SoC, 4GB RAM, 64GB internal storage, expandable up to 256GB via microSD card slot and a large 6.4″ QHD IPS display. The processor – although not the latest Snapdragon 820 seen on most premium devices – is optimized for Tango technology.  Wondering what's with a display as large as 6.4inches? Well, Tango tech requires that the phone incorporate a lot of additional sensors and these sensors occupy additional space. The tango tech phone also comes with Dolby Atmos 5.1 Audio Capture, 3 mics with 360 voice and noise-cancelling. The Phab 2 Pro has a fingerprint scanner on the rear, sports a 2.5D Curved Glass and comes with a massive 4,050mAh battery to keep the large display up and running. When it comes to camera, the phone sports a 16MP primary shooter with PDAF. It has an 8MP front shooter.
What's Special About Tango Tech?
Tango tech lets you do wonderful things not possible with a normal smartphone. With Tango tech, you can measure objects using your phone or even visualize furniture to see how well it fits in your home ambiance. Tango also lets you play with your "virtual" pet. Basically, Google's revolutionary tech turns the real boring world into a futuristic virtual fantasy world by combining augmented reality and real world information.
There are many Tango apps already available on Google Play Store. Apps like Woorld, Raise, Phantogeist, Lowe's Home Improvement enable you to experience the real power of Tango.
Woorld
The app is actually called 'Woorld' – that's not a typo! This whimsical soundbox game by Funomena lets you create a miniature virtual playground inside your home!
Raise
With this game, you can pick your own virtual pet and take him wherever you go. You can even teach the pet where his food is and share photos of the puppy on Instagram as he grows into a dog. Fun!
Phantogeist
This app turns your real world into one inhabited by phantom-like creatures trying to catch you. Your job is to protect yourself by shooting projectiles or finding hidden portals. Nice game to play on a boring Sunday afternoon!
Lowe's Home Improvement
Moved into a new house but have no clue how a new sofa would fit into the house's ambiance? Lowe's Home Improvement app is here to help you out. This app lets you arrange things with the tip of your finger and place them wherever you want to. You get to have a realistic feel about how objects look when placed in a real world.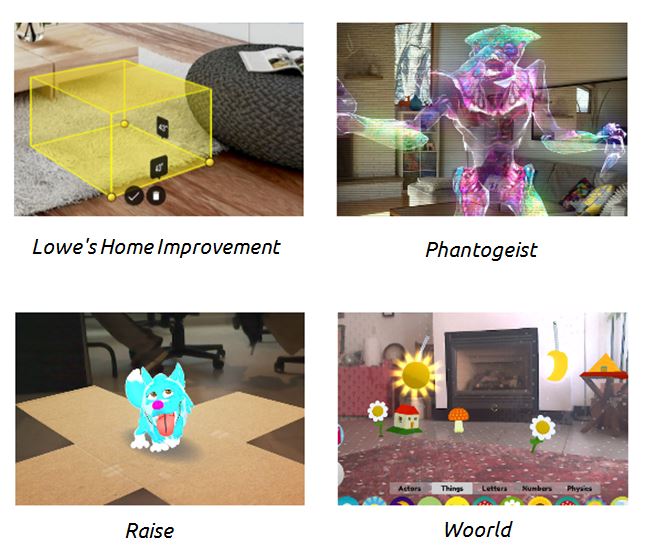 Get ready to experience the magic world of Tango tech on Lenovo Phab 2 Pro! Right now, the phone comes in Gunmetal Grey color and the Champagne Gold color variant is expected soon. The phone is priced at $499 and is available in the United States on Lenovo's official website and in select Lowe's retail stores.
Watch this video to know more about Tango Tech –