The Lenovo YOGA Tab 3 series have just been announced and the tablets are the entry-level, affordable Lenovo YOGA Tab 3 8" and YOGA Tab 3 10". The signature foldable stand usually found in Lenovo tablets is a part of both these tabs, along with the hanger hole that can be used for propping up the tablets. Both the devices have front-firing stereo speakers powered by the Dolby Atmos 3D Surround Sound technology.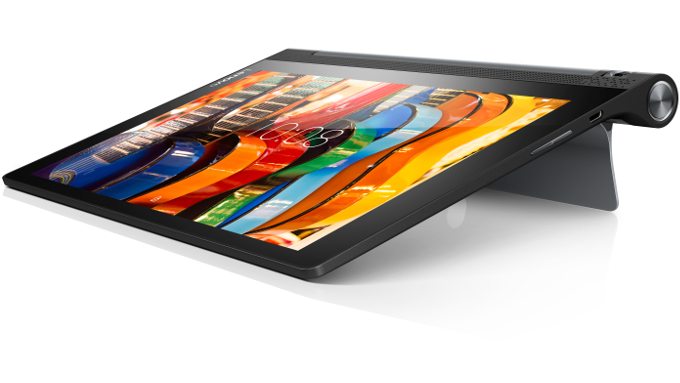 The Lenovo YOGA Tab 3 8″ and Tab 3 10″ have a single 8 MP camera, which is positioned at a rotatable module that allows it to act as a rear as well as a front-facing shooter. Another remarkable feature is the Lenovo AnyPen Technology that enables the user to use any metal or other conductive object as a stylus.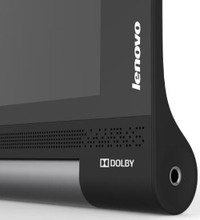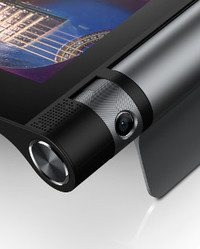 Both the tablets come with the Android 5.1 Lollipop pre-installed and runs on a 6,200 mAh battery. The Lenovo YOGA Tab 3 8″, as the name suggests, has an 8-inch IPS display with a 800 x 1280 resolution, translating to a pixel density of ~189 PPI. It also has a 1.3 GHz, quad-core Qualcomm processor coupled with a 1 GB RAM and 16 GB of internal storage. Moreover, a microSD card slot allows you to expand the storage up to 128 GB.
On the other hand, the bigger Lenovo YOGA Tab 3 10" boasts a 10.1-inch HD display with an 800 x 1280 resolution and ~149 PPI of pixel density. The Tab has the quad-core Qualcomm SoC, clocked at 1.3 GHz and supported with 1 GB of RAM. Like its smaller sibling, the Tab 3 10″ has a 16 GB internal memory expandable up o 128 GB via microSD card. This tablet, however, has a bigger battery at 8,400 mAh.
The Wi-Fi-only model of the Lenovo YOGA Tab 3 8" starts at $169, while the LTE-enabled one starts at $199. The Tab 3 10" will cost $199 for the Wi-Fi-only model, and $249 for the LTE-enabled version.