Nintendo's beloved franchise Legend of Zelda is one of the most popular game series of all time. Legend of Zelda Skyward Sword has been released for the Wii U. The news comes as a delightful shock for most fans who have fond memories of the game from 2011. Legend of Zelda Skyward Sword is the 16th entry in the franchise and takes place before the events of the original Legend of Zelda game.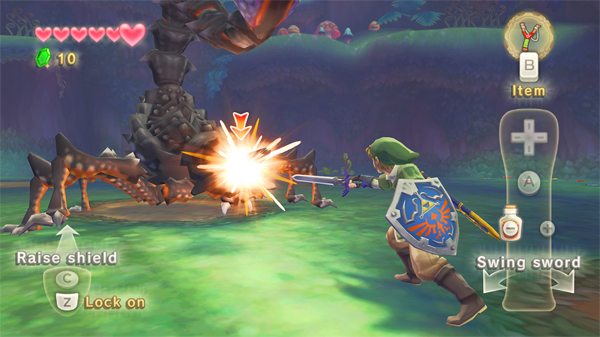 Legend of Zelda Skyward Sword will cost $20 on the Wii U
The listing for the product details:
"The Legend of Zelda: Skyward Sword boasts realistic sword combat, turning every encounter into a challenge of both brains and brawn. Soar, dive, and battle as Link™ in an epic quest that lays the foundation for the events in the critically acclaimed The Legend of Zelda™: Ocarina of Time"
Skyward Sword details the origins of the Master Sword, the game's flagship weapon. Game mechanics require the use of Wii Remote, Nunchuck, and Wii Motion Plus. The game was in development for five years and implementing Wii motion controls proved to be so problematic that the devs nearly discarded it. Game's art design takes inspiration from impressionist painters including Paul Cézanne. The music, composed by a team led by Hajime Wakai and supervised by Koji Kondo, was the first Zelda title to use a live orchestra for a majority of the tracks.
Nintendo continues to delight its fans with more titles for their current consoles . Previously they announced Super Mario Maker for the Nintendo 3DS and Pikmin 3DS. Nintendo also announced a new mystery console, the Nintendo NX. So far, we only have rumors and leaks about the new console's specs but it appears many of them could be confirmed in the upcoming Tokyo Games Show.
Will you be buying the new Legend of Zelda Skyward Sword for the Wii U? Let us know in the comments. MobiPicker will keep you updated about more Nintendo products in the future. Stay tuned.