The Legend of the Blue Sea is already popular now. For those who don't know much about the Korean drama series – it's a tale inspired by a classic Joseon legend from Korea's first collection of unofficial historical tales, about a fisherman who captures and kidnaps a maid. The Korean television drama series which airs on SBS every Wednesday and Thursday at 22:00 KST explores the love story between the son of Joseon noble family named Kim Dam-ryeong, played by Lee Min-ho and a mermaid named Se-Hwa, played by Jun Ji-Hyun.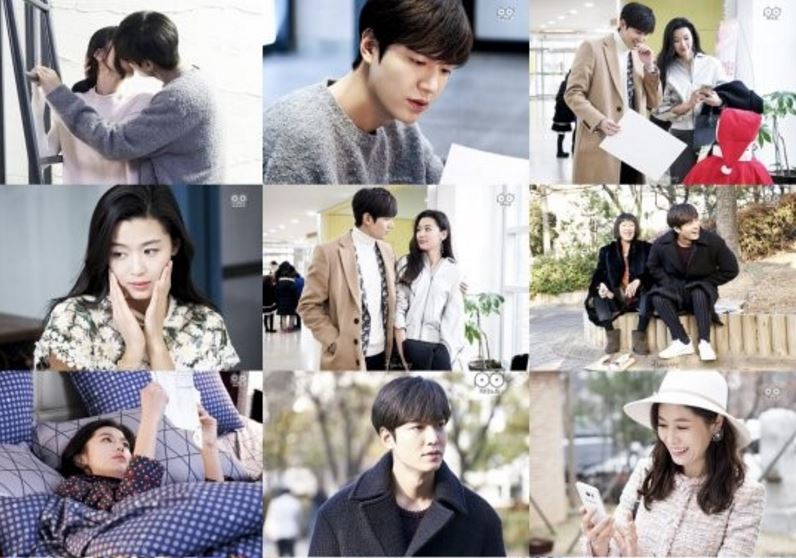 The Legend of the Blue Sea – behind-the-scenes photos
The Legend of the Blue Sea fans have something to cheer about. Behind-the-scenes cuts, including Jun Ji Hyun and Lee Min Ho's kiss scene, have been released. The photos have been uploaded on the drama's homepage. The homepage, labeled "PD Note: Photo Sketch" includes behind-the-scenes photos of episode 12. The photos show Jun Ji Hyun sitting on the swing, Lee Min Ho and Shin Lin Ah studying the script together and some fun-filled moments showing Lee Min Ho and Hong Jun Kyung sharing a laugh and more.
Behind-the-scenes photos also feature the kiss scene between Jun Ji Hyun and Lee Min Ho. When the scene was being filmed, Lee Min Ho burst into laughter and said – "I'm a little shy". You must see the photos to get a glimpse of the shyness! The photos also capture other random moments – like Jun Ji Hyun reader her script in bed, Park Hae Soo and Moon So Ri working hard and Lee Min Ho monitoring himself.
The Legend Of the Blue Sea Bags Top Ranking
Meanwhile, The Legend of the Blue Sea has bagged the top spot on the drama brand reputation index for the month of December. The Korean Business Research Institute examined data from October 16 to December 17, 2016, for 20 dramas. The rankings covered areas of communication, community, media, and brand. It looks like the fans' support and admiration keep the staff of the Legend of the Blue Sea motivated. "The actors and staff gain strength from the fans' endless love and are working hard at filming. We will do our utmost until the end to make the best production. Please continue to support us", said a source from the drama.