Konosuba season 1 ended in March 2016 and since then, fans have been eagerly waiting for the next season to arrive. The interesting story line of the series is the very reason why fans are craving for more. However, now, Konosuba's fans will be happy to know that the next season of the series will release this month.
Konosuba Season 2 New Trailer 
Recently, the studio behind this critically acclaimed anime series, DEEN released a brand new promo clip of Konosuba season 2 to get fans hyped up for it. The promo clip has a length of around 2 minutes and it basically gives fans a glimpse at what they can expect to see in the next season. Along with this, the trailer also announces the release date of Konosuba season 2, that is January 11 (which will be January 12 in the US). Have a look at the new promo trailer of Konosuba season 2 below and get yourself hyped up for it.
The trailer also reveals the opening and ending theme song of Konosuba season 2. The opening theme is titled as "Tomorrow" and is sung by Machico. The ending theme on the other hand, is titled as "I Want to Go Home" and is surprisingly sung by the voice actors of Aqua, Megumin, and Darkness.
Konosuba Season 2 Cast
All the previous cast from season 1 will return for Konosuba season 2. Ryōta Ōsaka is going to voice the main protagonist of the series, Kazuma Satō. Aqua, Megumin, and Darkness are going to be voiced by Kaori Fukuhara, Maaya Uchida and Marina Inoue respectively. Kōsuke Toriumi is going to voice Kyōya Mitsurugi, who has a strong sense of Justice and possess the magic sword "Gram".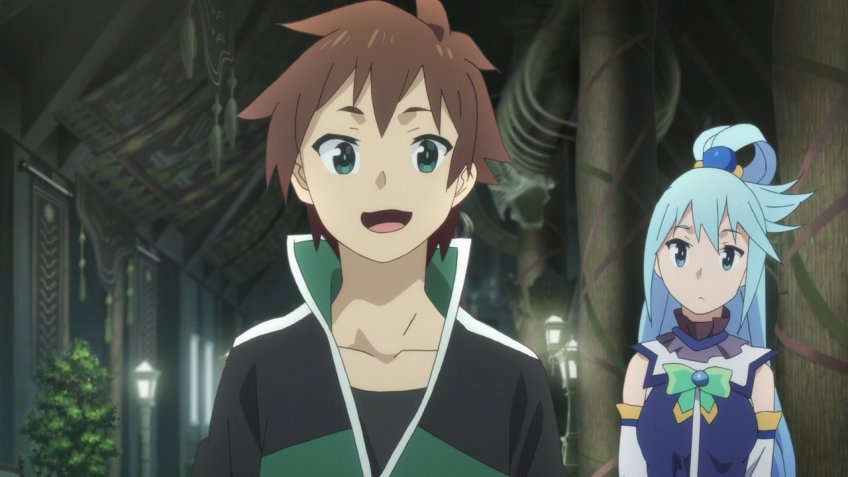 Konosuba season 2 is going to air on Tokyo MX. It will also air on other networks including Sun TV, TV Q Kyūshū, Gifu Broadcasting, Mie TV, Teletama, Chiba TV, tvk, and BS11. The first season of the series was also aired on these networks. However, thanks to Crunchyroll, fans from all over the world were able to enjoy it. They will most probably stream season 2 too while it airs in Japan.
Konosuba Season 1 Highlights 
Konosuba season 1 featured 10 episodes, which aired from January 13, 2016, until March 16, 2016, periodically throughout the time period. The first season of the series was a big success, which is the very reason why the studio behind the series renewed it for another season.
Konosuba Season 2 Release Date
Konosuba season 2 arrives on January 11, 2017, in Japan (January 12 in the US). Let us know if you're excited for it or not in the comments below.