Over last 48 hours, several third party Kodi add-ons have shut down vaguely. The developers have been tight-lipped about the cause their decisions, but from what we see, the move has been triggered in the wake of an ongoing lawsuit against third party Kodi add-on ZemTV and TVAddons.ag – the largest add-on library.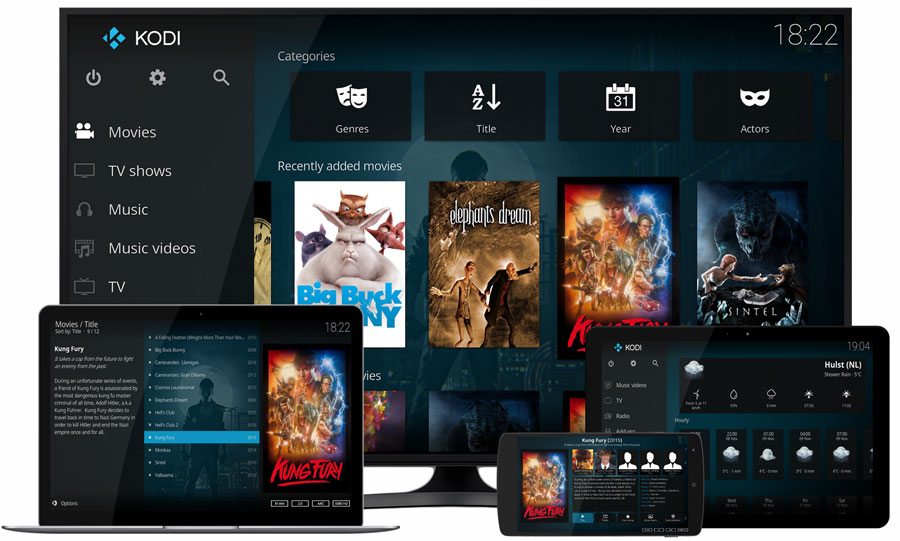 American satellite and broadcast provider Dish Network filed the said lawsuit accusing ZemTV of direct copyright infringement of various TV channels and TVAddons of distributing the addon in question. Both are now facing up to $150,000 for each offense.
The news struck a big blow against Kodi add-on developers, who mainly develop such software as part of their hobby. Acting as small groups, they have been running the dodgy streaming services without significant financial gain, but it appears, the risk is too great for them to continue to operate.
Add-Ons Shutting Down
The Phoenix add-on, which offered a massive selection of channels, broadcasts, movies, and TV shows has been closed down amid all this fuss.
Phoenix developer Cosmix wrote on the TVAddons forum [link has been taken down now], "In light of current events we have decided to close down Phoenix. This is not something that was easy for us to do; we have all formed a bond that cannot be broken as a team and have a HUGE support base that we are thankful of". While the developer doesn't specifically call out the legal challenge, it's hard to see what other "current events" they could be referring to.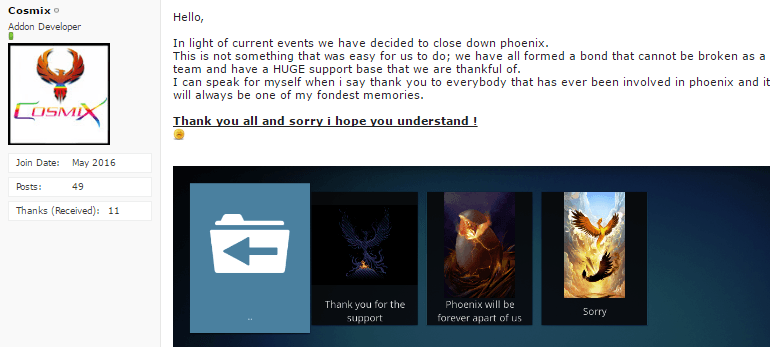 But, it was not just Phoenix. Even developer One242415, known for Navi-X, Mashup, and his own add-on, took the big decision for good. He made the announcement via his add-on, which is said to be closed in few days.
Developer Echo Coder also vaguely tweeted that all his add-ons will be closed. He didn't mention any specific reason and only said the recent spike in the popularity of third-party add-ons was not beneficial to the community. A few hours later, he also confirmed that his own add-ons were now offline.
Looks like, the time of vague shut-downs has just started. In last few days, a bunch of third-party projects and add-ons have either announced shut-down or a temporary hiatus. Kodi community sites are trying to keep up with the sudden plunge, but at this scale, the uncertainty is imminent. Maybe there's more to come, but there's still no telling what would be the exact fallout of these changes, at least on the long shot.
In our opinion, the Dish lawsuit has raised an alarm among Kodi developers, who clearly prefer staying out of trouble at a time when legal pressure is likely to increase.
Check Also: How to install Fusion on Kodi