MSI have confirmed that the new Kaby Lake processors will be supported by the 100-series boards via a BIOS update. Furthermore, now the Kaby Lake Upgrade has been revealed for Skylake owners.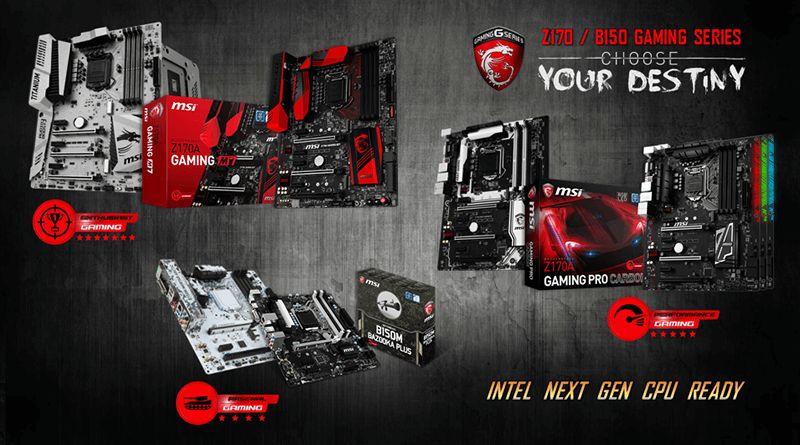 Kaby Lake Upgrade Path revealed
Kaby Lake on Skylake has been a mystery. Primarily because Intel has been less forthcoming when telling what the upgrade path is. Kaby Lake is the successor and is basically just the tweaked version of Skylake. Furthermore, the two processor sockets are identical. However, there have been some questions of whether they are actually backward compatible.
MSI have stated they're going to release a BIOS support for Kaby Lake processors for their 100 series motherboards.
"MSI, world leading and most popular gaming component brand, is pleased to announce that all current MSI 100 series chipset motherboards fully support the next generation LGA 1151 socket processors. The BIOS updates are now made available for download via the official MSI website. With these BIOS updates users can benefit from better performance and compatibility using the latest Intel processors with better specification and higher frequencies. Highly acclaimed, MSI continues to push for outstanding performance, a unique and attractive look & feel and solid reliability for its 100 series motherboards.

100 series motherboards latest BIOS list with next gen. of CPU support, available for download at msi.com."
There are some definite advantages of jumping on to the 200 series motherboards. If you've got a really bad 100 series board, then you'd want to make the upgrade. However, if you're a gamer you wouldn't really need that much bandwidth which the 200 series motherboard provides you at the moment. So, it's simply best to stick to the 100 series for now.
Let us know what you think of the Kaby Lake Upgrade Path for Skylake owners. We'll keep you updated with more news regarding the Kaby Lake processors.