Reliance Jio has launched a new offer in the name of Jio Dhan Dhana Dhan. Essentially, it is a reprise of "Summer Surprise" offer called off by the company on the directions of TRAI (Telecom Regulatory Authority of India). The new offer will provide customers the access to free services over the next three months.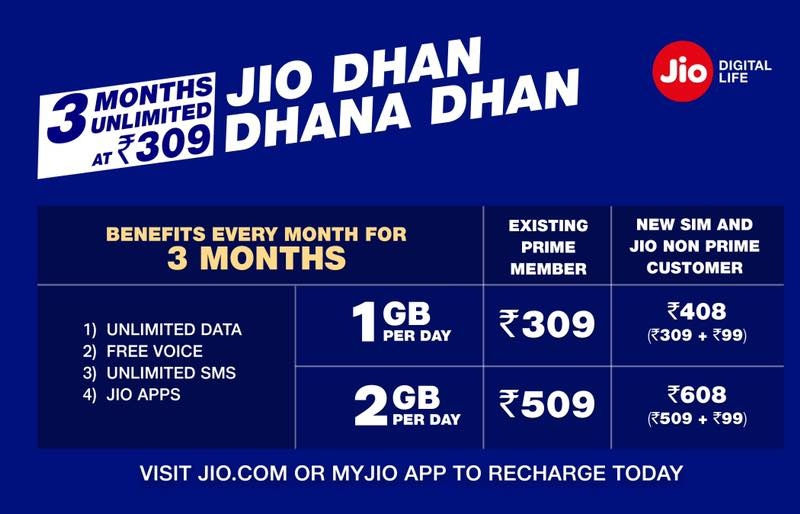 Jio Dhan Dhana Dhan Deal – the what's and how's
The new deal from the Reliance Jio house is open to both new and existing customers. It offers unlimited data, free SMSs, Jio apps subscription, and of course, the free voice calls for three months i.e. 84 days (3 recharge cycles of 28 days). All you need to do is subscribe to the Jio Prime membership, and buy a recharge of Rs. 309 or Rs. 509.
Basically, Jio came up with the new plan to lure customers who weren't able to subscribe to Reliance Jio's Summer Surprise deal before it got canceled. Hence, the new deal is only applicable to users who didn't opt for the Summer surprise offer earlier. To avail the latest Jio Dhan Dhana Dhan deal, you will first need to enroll in the prime membership plan worth Rs. 99, and thereafter avail the new offer. Overall, under the new scheme, you will get the free services for three months at the cost of either Rs. 408 (Rs. 99 Prime membership + 309 recharge) or Rs. 608 (Rs. 99 Prime membership + 509 recharge).
And before you ask the difference between the two recharges, let us tell you that under the Rs. 309 recharge, you will get 1 GB data per day, whereas the Rs. 509 recharge will fetch 2 GB data per day.
The Jio Dhan Dhana Dhan offer is just a little expensive than the Summer Surprise deal. Under that offer, the two recharge pack cost Rs. 303 and Rs. 499 respectively. So, in case, you were planning to opt for the Summer Surprise plan, there is no reason to avoid this offer too.
Reliance Jio said, "With this [offer], Jio extends the benefits of a superior and advanced technology to take India to global digital leadership. The announcement also marks another step in Jio's commitment to continuously delight its customers and enable them to live a fully digital life."
Do let us know if you plan to avail the Jio Dhan Dhana Dhan offer in the comments section below.