With the rise in demand for rugged phones, many makers have stepped in to make such device. But in the process of making the phone rugged, most them compromise on the specifications. JESY J9S gives a completely rugged phone with some of the best specifications available in the market. Moreover, it is available at a massive discount but this sale wouldn't last for long.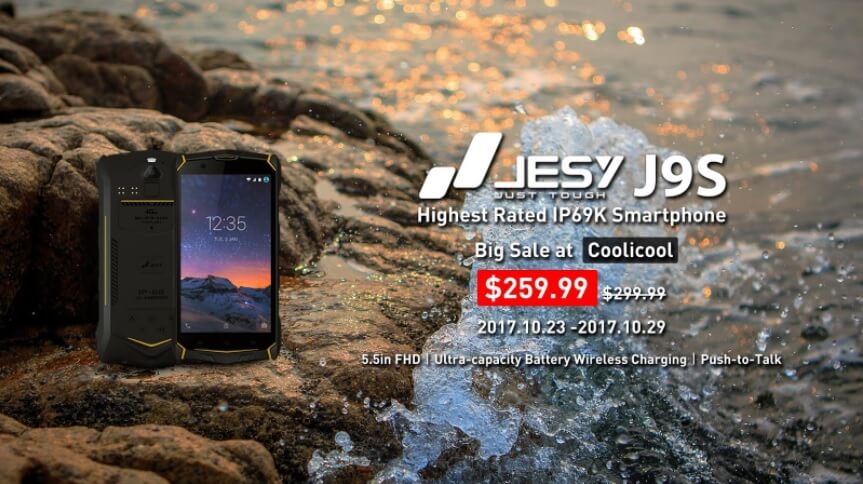 The top features of the JESY J9S include the IP69K rating that is one of the highest that any smartphone has ever received. This is a class leading feature that gives the phone an unparalleled toughness. The certifications should assure you that it isn't at all easy to damage this phone by any means, not even a full water submersion.
JESY has designed this phone keeping in mind the people interested in adventure sports. Apart from this rugged features, the J9S includes an array of sensors like for measuring air pressure, magnetic field, and a professional grade gyroscope for calculating the elevation and direction. To ensure that your phone lasts for long, a 6150mAh battery has been included that can run the device for days. The phone also supports Qi-based wireless charging.
Towards the front, you will find a 5.5-inch FHD display along with three touch capacitive Android navigation buttons below it. A fingerprint scanner is also present on the back of the Jesy J9S. the dual-SIM phone comes running Android 7.0 Nougat out of the box and also has an IR remote along with NFC.
It comes with 4GB of RAM along with a storage capacity of 64GB, which can be further expanded. An octa-core Helio P10 MTK6755 processor clocked at 2.0GHz powers the device. There is a 16MP camera on the back while an 8MP one sits on the front, right above the display. It is a 4G-capable device and supports a wide variety of bands, making it functional in most of the areas.
On a normal day, you will find the Jesy J9S retailing for $299.99 but you can get in at a discounted price of $259.99, but only if you hurry. These flash sales are being held by the Coolicool store and they wouldn't last for long. The website started these sales on October 23rd and will end on October 29th. So in case you're interested in this phone, this is the right time to get one.