We have to say this- iPhone 7 is NOT the hottest topic of discussion this year. That's because it isn't coming with any major change at all and looks like a repeat of the iPhone 6s albeit some changes in the storage options and camera module. Meanwhile, rumors and leaks about the iPhone 8 suggest that the 2017 iPhone is the smartphone we should look forward to, as it will be a major refresh for the iPhone lineup.
A report by Macworld agrees that the iPhone 7 sales this year will disappoint relatively but iPhone 8 will bring Apple back to the front due to its massive enhancements and improvements over the previous iPhones. Analysts have predicted that 2017 will be the 10th anniversary for iPhone, which is why the iPhone 8 will be a major update with features like OLED screen, a possible all-glass body, better 3D Touch, wireless charging, waterproofing, etc. All in all, be prepared for a huge change and lots of surprises.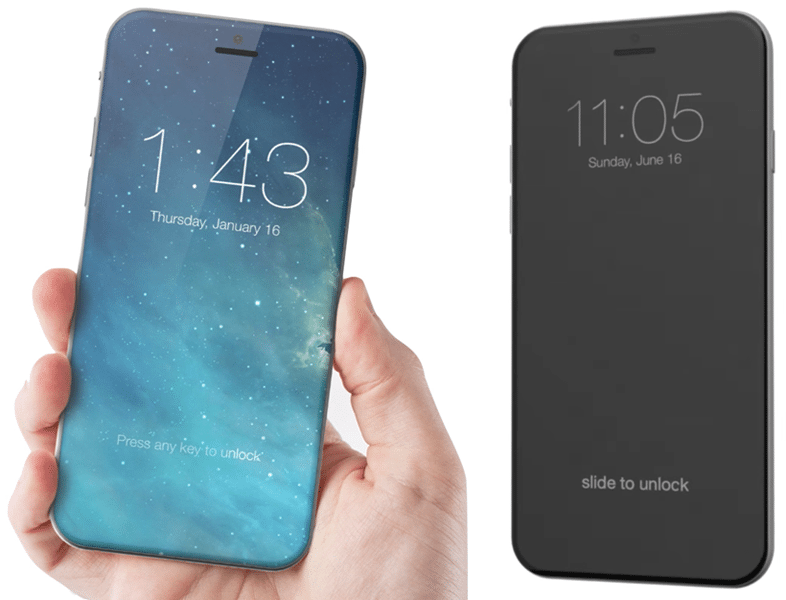 Meanwhile, a Yibada report goes deeper into the details, saying that the OLED screen in the iPhone 8 will "stretch to the edges of the phone". The full glass body of the device will look like only a single sheet of glass was used. The report also says that the iPhone 8 could get the Touch ID fingerprint sensor embedded in the OLED screen itself, thus removing the need for the Home button completely. The OLED display will provide thinness to the device while also enhancing the battery life.
Mobilenapps reported that more advanced features will also be included in the 2017 iPhone 8. Apple will power the device with the A11 processor, and the iPhone will come with biometric features for iris scanning and facial recognition. That's very much possible as the Galaxy Note 7 is already getting an iris scanner, which is going to be the next step in smartphone security technology. It is expected that dual cameras will become standard across the iPhone 8 lineup, and the antenna bands with the 3.5mm jack will be gone forever.
As for the iPhone 8 release date, PCAdvisor suggests that Apple could launch the new iPhone in September 2017 just like every year. However, 2017 marking iPhone's 10th anniversary, the launch timeframe could get changed officially. That's also the reason why the iPhone 8 will not be named iPhone 7S, as we are looking at a major overhaul.
More leaks are expected as time flows, so stay tuned.