There are a lot of expectations from iPhones that will be releasing this year as 2017 marks the 10th anniversary year of iPhones. Fresh schematics of the rumored iPhone 8 and iPhone 7S Plus have been revealed by Benjamin Geskin who is not only known for designing renders of iPhones but also for leaking information on the upcoming features of the forthcoming iPhones.
There have been several rumors on the dual rear camera of the iPhone 8. Some leaks have revealed that it will be sporting a horizontally arranged dual camera system whereas other rumors have suggested a vertical setup. Geskin has revealed two schematics on his Twitter handle each one respectively belonging to iPhone 7S Plus and iPhone 8.
The above drawing reportedly belongs to iPhone 7S Plus. It is sporting a horizontally aligned dual camera setup on the back panel like the predecessor iPhone 7 Plus. However, what's surprising is that the Home button cannot be seen on the front panel of the phone. Recent rumors have revealed that Apple would be eliminating the Home button, but these rumors were only related to the iPhone 8.
However, it is the first time that we are seeing some hints that show that even iPhone 7S Plus would be lacking a Home button. It indicates that the Touch ID sensor would be embedded under the display of the phone. The drawing also suggests that it will be sporting a screen with a higher screen-to-body ratio.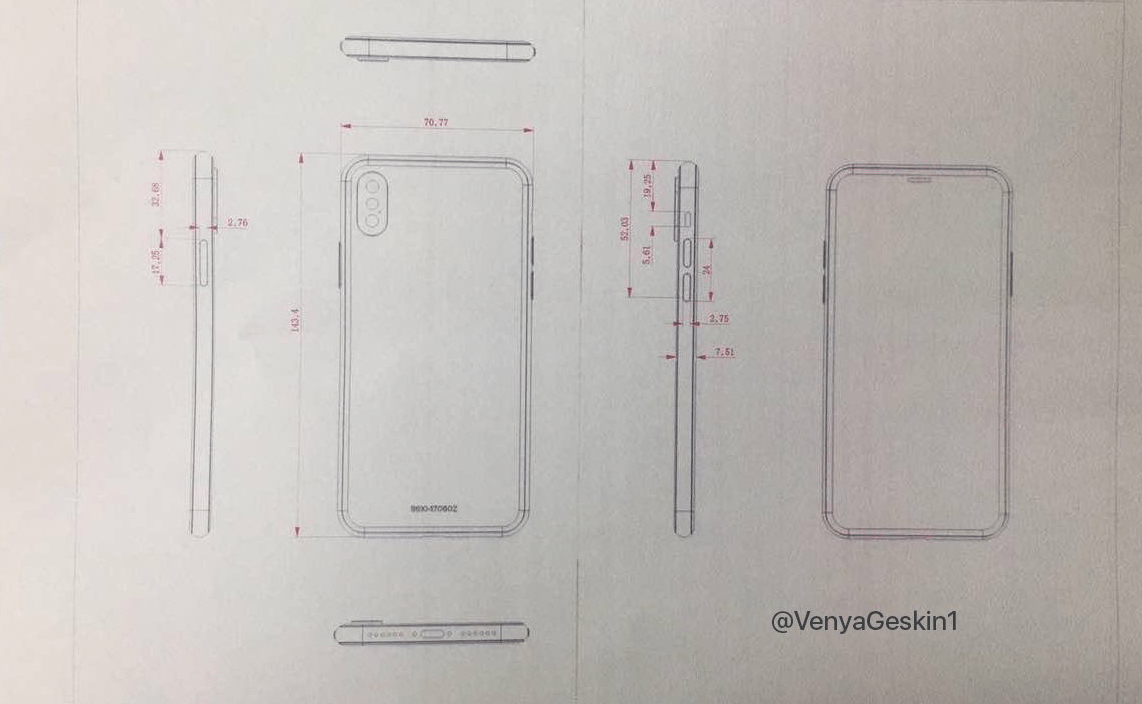 The alleged iPhone 8 is expected to come with some exclusive features that won't be available on other upcoming iPhones of this year. The above drawing shows that it will be coming with a vertically aligned twin rear cameras. Speculations have it that the dual cameras will be equipped with Augmented Reality (AR) capabilities that will be not available on the iPhone 7S Plus. It is expected to come with some premium features like edge-to-edge 5.8-inch OLED display and wireless charging. Rumors also claim that the iPhone 8's exterior will be something that Apple has never used on its predecessor phone.
There are mixed rumors about the pricing of iPhone 8. Some claim that it will cost $999. However, others have stated that its base model will be priced around $870 and its advanced variant would be costing $1,070.