It's official – the next-generation of the iPhone is finally here.
Apple CEO Tim Cook introduced the much awaited iPhone 7 (and iPhone 7 Plus) to the attendees of the company's annual event in San Francisco minutes ago. The follow-up presentation by Phill Schiller, senior VP at Apple, has made it abundantly clear that most of the rumors and speculations circulating in the tech sphere for the past several weeks were not baseless, after all.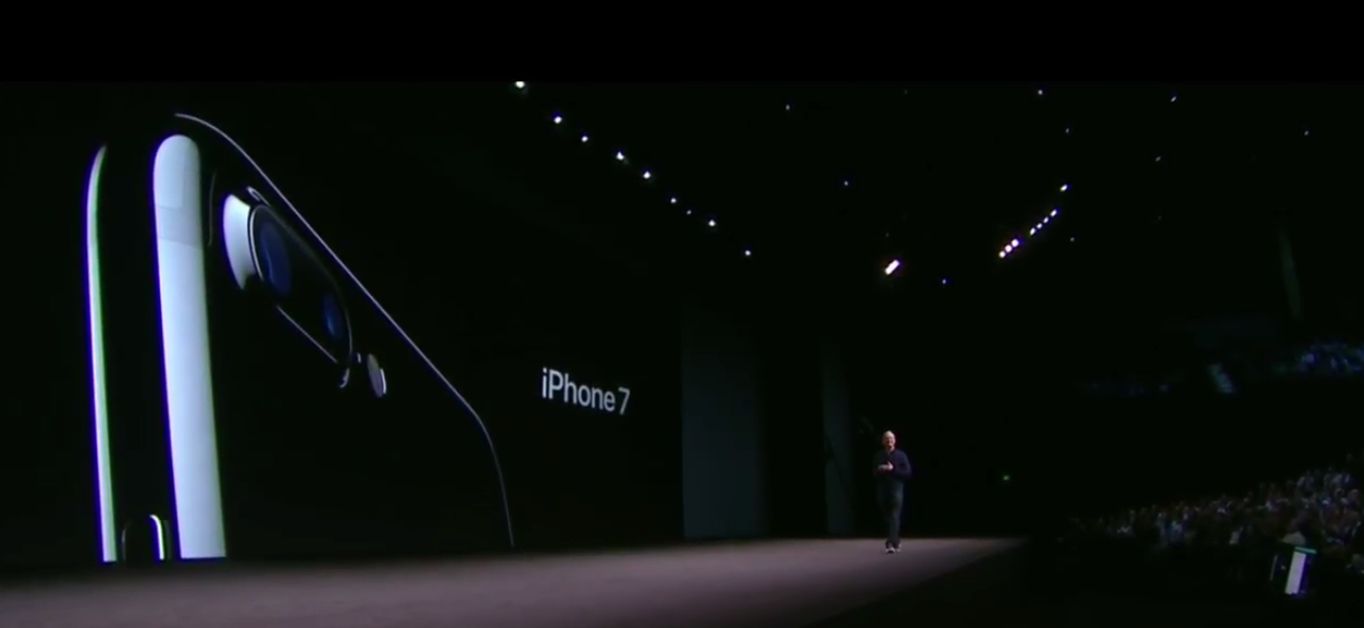 Design
As readers could perhaps already guess – courtesy, leaked images on the internet –  the iPhone 7 was going to be aesthetically quite similar to its predecessors iPhone 6s and 6s Plus. And as we are seeing it live today, it actually is! Only shinier! They are calling it the "Jet Black".
A couple of other aspects that will catch your attention immediately include the stainless steel Apple logo at the rear, and how seamless the body merges with the glass display at the front.
However, the aesthetic similarity is, at the least, only a deception to our perception. Because, under that somewhat predictable, yet sleek design, rest a bunch of hardware that collectively guarantees you a much-improved performance.
So, what is really new in the iPhone 7 and iPhone 7 Plus?
One look at the specs and the most notable changes you will notice are the omission of the 3.5 headphone jack, upgraded cameras, and the pressure-sensitive Home button (just like rumor mongers had predicted).
NO Headphone jack – it is confirmed!
"We believe in a wireless future," the crowd cheered as they heard the voice from the on-stage display spoke, "A future where all of your devices intuitively connect."
AirPods, designed to connect through the lightning port will replace the headphone jack. They will rely on Infrared sensors to automatically detect when they are in your ears. That means, they will only start playing when in your ears.
The setup process for AirPods is pretty simple – you just have to connect them to the phone once, and they will instantly sync over iCloud to all your Apple devices. Once done, you will never need to sweat over them again.
Activating Siri with your AirPods is also easy – just double click on them. As per the product description, AirPods have a battery life of up to five hours.
Another exciting improvement is the addition of the stereo speakers that will deliver a far better sound quality.
There's not much to talk about the display, except it will be up to 25 per cent brighter in both the  devices and come with a wider color range, as well as continual support for 3D Touch.
Improved camera – yes, there's a couple of good additions to cheer for as previously predicted.

Both iPhone 7 and iPhone Plus will have improved cameras with upgraded image stabilization technology that delivers 3x longer exposure.
The iPhone 7 camera comes with a six element, 1.8 aperture lens, a quad-LED flash delivering 50 per cent brighter light output, a 12-megapixel sensor that Apple claims, is 60 per cent faster.

The front camera is 7-megapixel, up from 5-megapixel on the iPhone 6s.
(None of these improvements account for the dual-lens camera we were hearing through the past several months.)
As for the iPhone 7 Plus, it really comes with two 12-megapixel cameras on the back – a feature that will allow users captures wider angle, as well as telephoto. One of the lenses can handle 2x zoom while the other is designed for 1x zoom.
It will just take a tap on the screen to switch to 2x zoom which will result in automatic focus on the region that was tapped. If you want to zoom even further, there's the standard optical zoom to take care of that (up to 10x zoom).
As for the Home button on both devices, it is based on Apple's taptic engine like the trackpad on the new Mac. The button won't actually click although it will feel as if it did.
Both iPhone 7 and iPhone 7 Plus are designed to be more durable with dust-proof and water-resistant bodies. These models will comply with the IP67 protection standard, meaning they can withstand rough handling such as dropping the device in a pool (or a toilet, maybe?) for a brief period.

However, it might not be a good idea to take the device with you to shower everyday. But then, that'll be perhaps a bit too much to expect from any electronic device.