New rumours and reports regarding the iPhone 7 emerge every day from different sources on the internet. Now, assembly instructions docs of the iPhone 7 have leaked from an Apple Assembly plant in China. Several pages with details and diagrams of the upcoming Apple phone appeared on Chinese social media.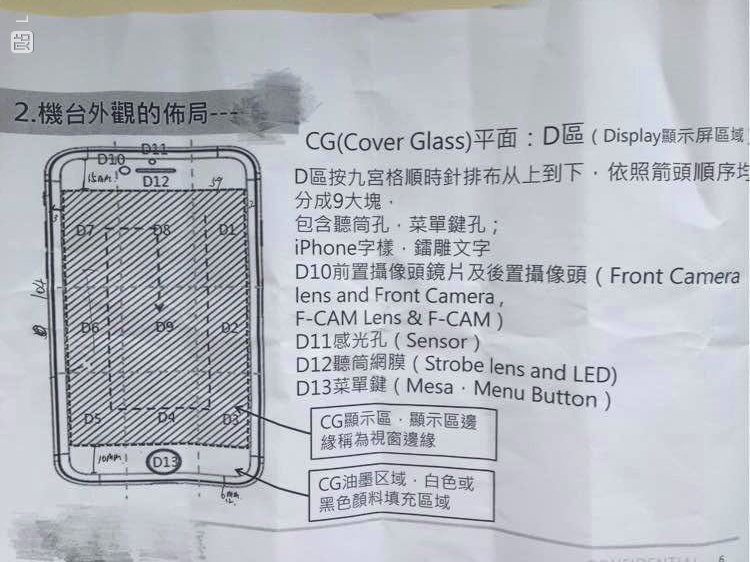 But these docs do not do us who are hungry for new information any good. The docs only confirm what we already know. There is no significant change in the physical design of the iPhone 7 from its predecessors.
However, according to Nowhereelse, a French tech news site, the iPhone 7 will sport a large dorsal camera that will form a projection on the device. Also, Apple decided to redesign the antennas making them more inconspicuous. Another notable change is the headphone jack, which now accommodates a second row of holes.
According to GSMArena's assessment of the docs, the iPhone 7 selfie camera might have a flash. In the documents, D12 on the front and H12 on the back represent "Strobe lens and LED". Forget the Strobe lens part and focus on the LED part. The back rear camera of the iPhone 6 has a LED flash. So, probably this means Apple will include a LED flash in the front camera of the iPhone 7.
Most of the content in the leaked documents are in Chinese; we are not able to grasp a lot. That is all we have for now. We will continue to update you on the latest regarding the iPhone 7.
Is the projection of the camera on the rear side of the iPhone 7 a deal breaker? Let us know what you think in the comments box.