The latest nexus devices, the Huawei-made Nexus 6P and the LG-made Nexus 5X, were released by Google last year. The phones have been successful since then, but these Android guns have to hold their glory in place properly as Apple's iPhone 6s gives them a tough fight. So if you are stuck between the iPhone 6s and the Nexus 6P, here's a little comparison to erase your confusion.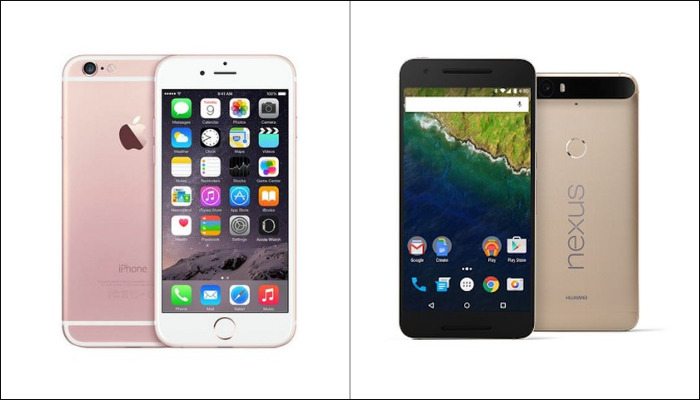 Design, Screen, Processor, and Storage
The Nexus 6P and the iPhone 6s both get aluminum bodies and are available in four different color options. The Nexus 6P gets a large 5.7-inch screen, while the iPhone 6s flaunts a perfect 4.7-inch display. The display of the Nexus 6P rocks a resolution of 2560×1440 with 518 ppi pixel density, while the iPhone 6s makes do with 326ppi and a resolution of 1334×750.
The iPhone 6s comes with the A9 chipset and a M9 GPU. The Nexus 6P gets Snapdragon 810 with Adreno 430 GPU. The iPhone 6s sports 2GB of RAM and comes in 16, 64 and 128 GB options. Meanwhile, the 6P gets 3GB of RAM and is available in 32, 64 and 128GB versions.
Camera, Battery, Connectivity
The Nexus 6P is appreciated for its nice camera, and so is the iPhone 6s. The Nexus phone gets a 12.3MP rear camera and an 8MP front camera. Meanwhile, the iPhone 6s flaunts a 12MP rear camera with a 5MP front one. 4K video recording is supported in both the phones.
Talking about the battery, the iPhone 6s packs a 1,715 mAh battery, and the Nexus 6P gets a great 3,450 mAh battery that lasts up to 12 hours on moderate to heavy use. Connectivity features in both the devices include NFC, Bluetooth 4.2, Wi-Fi 802.11a/b/g/n/ac, etc. Both phones get fingerprint sensors.
Verdict
Huawei's Nexus 6P comes with a lot of premium features, and so does the iPhone 6s. The Apple phone does come with 3D Touch (pressure sensitive display), but the Nexus 6P flaunts the latest Android Marshmallow for amazing user experience. Finally, it's your call between Android vs iOS.