The wait for the 4-incher superstar is finally over! Apple has announced that it is holding an event on March 21st. At this event, the company will introduce the new iPhone 5SE, some new Apple Watch models, and a new iPad Pro.
Apple's invite for the event is mysterious enough, as it says "Let me loop you in". This statement might mean that we can expect some new Apple Watch bands, and the color scheme of the invite might be a suggestion that the iPhone 5SE will get the same color options as the iPhone 6s.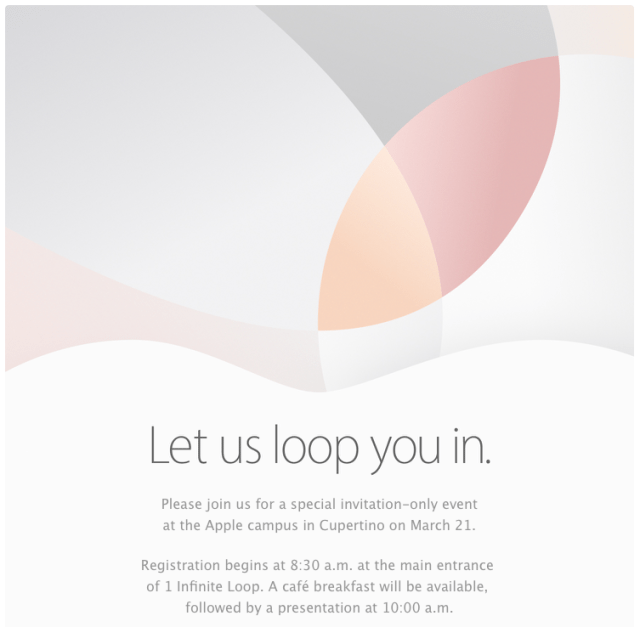 The latest rumors say that the iPhone 5SE will get a 4-inch screen (obviously), but more importantly, it will come with an aluminium body instead of the iPhone 5c's plastic one. It will be powered by the same A8 and M8 processors that have been used in the iPhone 6. There will be NFC support for Apple Pay, 802.11ac WiFi, Bluetooth 4.2, and an 8MP/1.2MP camera combo. We might see the Live Photos feature as well that debuted with the latest iPhone 6s.
The 21st March Apple event might also introduce a new iPad Pro, perhaps a smaller and cheaper version of the last iPad Pro. It might be named as iPad Pro Mini and will come with a 9.7-inches display. It will be powered by an A9X processor along with support for the Apple Pencil. We might see the tablet with a Smart Cover keyboard attachment too just like the original iPad Pro. A rear-facing LED flash and additional speaker grilles are also rumored.
What we might not see is the Apple Watch 2, something that the company might want to reserve for a later event. Though do expect some new colors for Sports and Hermese bands and a black color for the Milanese Loop.