Apple is in the habit of not mentioning the details of the internal hardware when it launches a new device. Instead, it prefers to speak relatively about the improvements, like 'the A9X GPU is 360 times faster', because such statements are helpful for the buyers. Luckily, for those who want to know about the internal specifications, benchmark tests are there to help find out what is powering the Apple devices. The recently launched iPad Mini 4 is the latest to go on the benchmark test.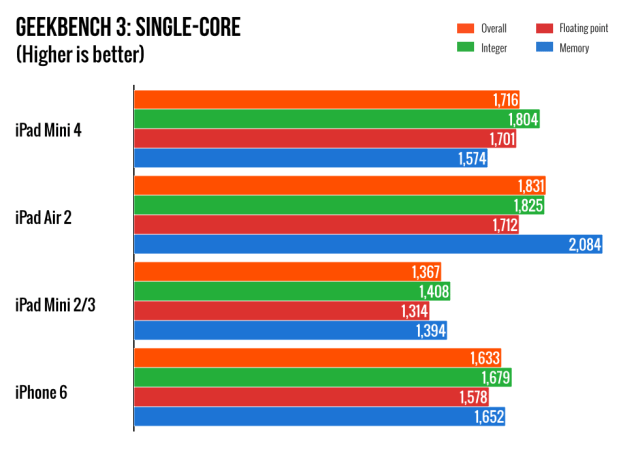 The iPad Mini 4 was spotted on Geekbench and it seems like Apple has indeed updated the internals this time. The iPad Mini 4 has 2GB RAM and an overclocked 1.5GHz A8 SoC, which is faster than the 1.4GHz A8 chipset of the
iPhone 6
and
iPhone 6 Plus
. Although it's not a very large difference, it is noticeable in the benchmark scores.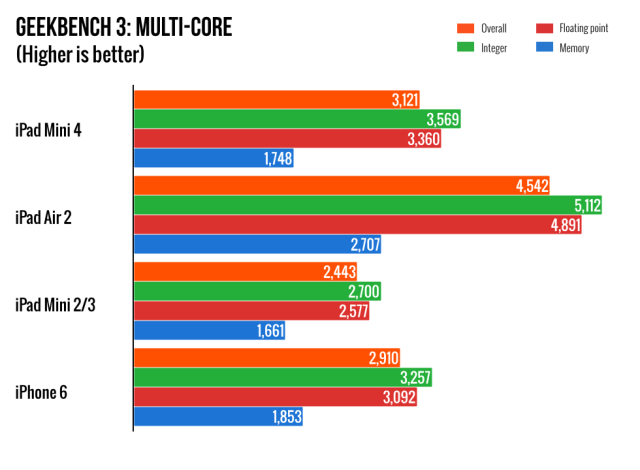 We do not know if the overclocking will result in any noticeable performance bumps. We guess you will be able to spot the differences only if you take the two devices side-by-side and look actively for the differences. We're not sure what the figures mean in the real world usage, but the iPad Mini 4 did score lower than the iPhone 6 in the memory component of the Geekbench tests.