In case you are an iOS user who likes to use jailbroken iPhone/iPad/iPod Touch devices instead of the stock ones, then this is a really frustrating time for you. There has been no jailbreak release since a long time, and there's no guarantee if we are going to get the iOS 9.3.2 jailbreak before WWDC 2016. Well, that's where the new Mojo installer will come handy.
We have already told you about how you can use Extensify to install tweaks on iOS without jailbreaking. Well, Mojo is not about tweaks, but until there's any jailbreak available for the current firmware, it lets you install screen recorders, game emulators, and other such cool stuff on your iPhone, iPad, or iPod Touch without jailbreaking. Mojo is an app-based installer and allows you to add repos like Cydia.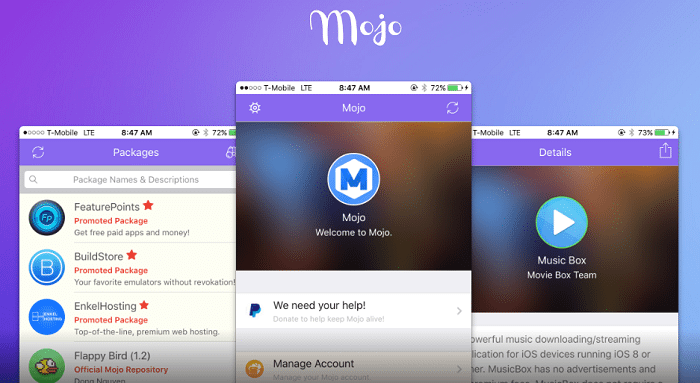 Of course, Mojo is not a perfect Cydia alternative and isn't much of an iOS 9.3.2 jailbreak alternative. However, it will keep you happy unless a new jailbreak tool is released. If you want to know how to install Mojo on iPhone, iPad, iPod Touch devices, we should tell you that the process requires some confusing steps that you need to do. But we have already prepared an easy tutorial for you. So just follow the steps given below to download and install Mojo on your iOS devices.
How to Install Mojo on iOS Without Jailbreaking iPhone/iPad/iPod Touch
Open the Safari browser in your iOS device and go to mojoapp.xyz.
You will reach a dedicated Mojo Installer page, and there will be a button in the middle to Install Mojo on your iOS device directly. Tap that button.
The next page will tell you to build a custom profile. To know more about the process and make everything easy, do read the information given under "What does this do?" section. Then tap on the Build Custom Profile option.
The Settings app will open up automatically and you will be taken to the Install Profile page. Just tap on the Install button given in the top-right corner.
In case you have enabled Passcode, enter it to proceed and then tap the Install button.
Now your device will automatically open up the browser again. You now have to tap the Install Mojo button again.
A pop-up will come up to confirm the action. Just tap on Install.
Now the Settings app will open up again and another Install Profile page will appear. The profile won't be signed and will be displayed in red.
Now tap on Install and input the Passcode if asked.
Then tap on Next button given in the top-right corner. If a Warning page comes up, ignore it and tap Install again.
You now have to tap the Install button one last time, and then hit the Done button given in the top right corner.
Mojo should get installed and you will find it on the Home screen on your iPhone/iPad/iPod Touch.
You can now open Mojo and add repos to download and install any apps of your choice. Certain apps might add their own certificates, so to launch those apps, you will have to go to Settings > General > Profile and Trust those apps.
How to Delete/Remove/Uninstall Mojo from iPhone/iPad/iPod Touch
In case you did not like Mojo or don't want it on your iOS device any more, you can simply remove it by following the easy steps below.
Go to Settings > General > Profile.
Open Mojo Installer.
Tap the Delete Profile button. This will remove Mojo from your device completely.
Have you tried out Mojo yet? Share your experience in the comments below.