If you're one of those desperately waiting for iOS 9.2 – 9.3.3 jailbreak, then we have good news! From what we know, Pangu has released a Jailbreak of iOS 9.3.3!! The jailbreak is for iPhone, iPad, and iTouch.
This jailbreak provides full control to the user – you can either enable or disable the jailbreak functionality. Wish to jailbreak? Just run the click-to-jailbreak app. Want your device back to normal? Just reboot. This way, the latest Pangu jailbreak allows you to jailbreak iOS whenever you want to and additionally allows you to remove the jailbreak just by rebooting. Cool, isn't it?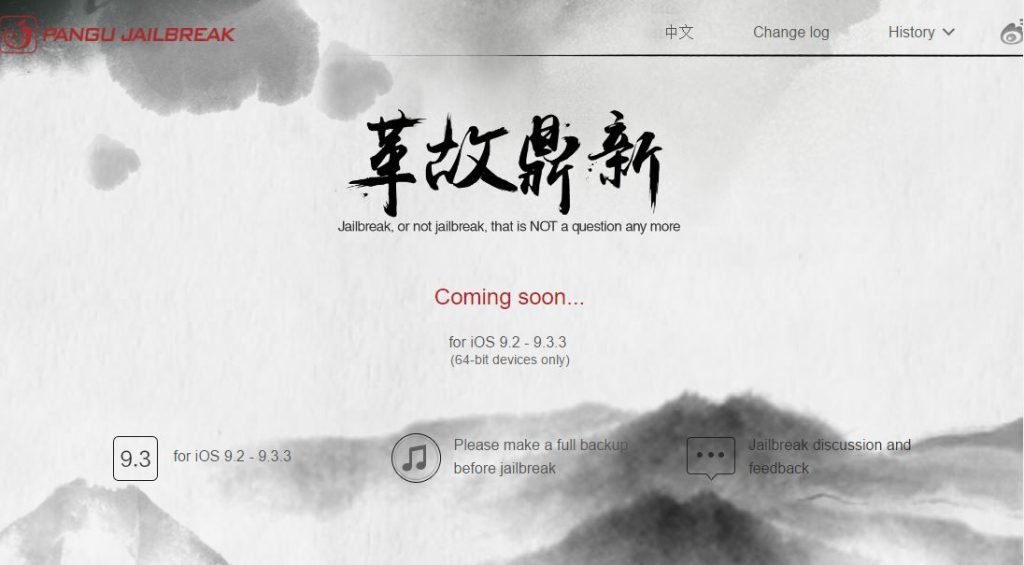 Pangu iOS 9.2 – 9.3.3 Jailbreak Download [Pangu website]
As of now, Pangu has released the Chinese Windows version and supports 64-bit devices only. The English version is not yet out but is expecting to be coming very soon. You can download Pangu by visiting pangu's official website pangu.io.
Supported Devices
iPhone 6, iPhone 6s, iPhone 6 Plus, iPhone 6s Plus, iPhone 5s, iPhone SE, iPad Mini 2, iPad Mini 3, iPad Mini 4, iPad Air, iPad Air 2, iPod Touch 6G, iPad Pro.
Supported Firmware
Supports all firmware versions from iOS 9.2 to iOS 9.3.3.
The website still says "coming soon" and you should get a download link very soon. Let us know if you were able to successfully jailbreak your device. Feel free to post about the issues you faced and the workarounds you used while jailbreaking using Pangu!
Disclaimer: This article is for information purposes only. Mobipicker neither supports nor endorses jailbreaking of iPhones. Mobipicker and its authors are not responsible for any damages to your device that may arise out of jailbreaking.