The iOS 10 packs in several new features – a new lock screen, new messages app with bubble effects, better notifications, 3D touch application, redesigned apple maps and much more. Those who skipped the beta versions are familiarizing themselves with the new features. Just when everything looked fine, battery drain issues have surfaced. Users have noticed that iOS 10 drains iPhone battery at a staggering rate. Some of them took to twitter to vent out their frustrations.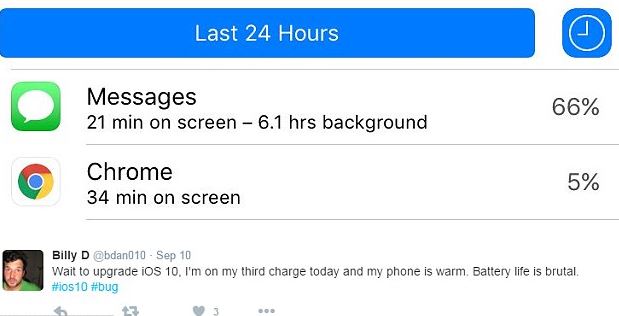 As you can see, for one of the users, messages drained 66% of the battery in 24hrs. It looks like the new features of iOS 10 are power hungry and are draining the iPhone battery at an unprecedented rate.
Other users have also complained about the inability to get mobile phone signals on the device after returning from airplane mode to normal mode. Recently, T-mobile advised its users to not install the updated software because it changed the carrier settings, leaving the phone unable to connect to the network. It's quite surprising iOS 10 had this basic bug. Apple has already released the fix for this issue. After the fix, T-mobile advised that the users can now upgrade to the new software.
Now that signal issue has been fixed, battery issue has cropped up for many users. Battery issues seem to be haunting major smartphone manufacturers today – starting with exploding Note 7 phones to iPhone battery issues. Message app alone consuming 66% of battery is highly unacceptable. The exact cause of huge battery drain in iOS 10 remains unknown. Nick Confessore, a reporter for The New York Times says – "I've now updated to iOS10 and updated all my apps. Is there a reasonable technical explanation for why my iPhone battery life is down 50 percent?"
Apple has not responded so far on this issue. It remains to be seen when Apple will release a fix for the battery drain issue.