After releasing lots of beta builds, Apple finally rolled out iOS 10.2 for the masses. The new iOS version brings some important security updates, but the best part of the new build is the inclusion of some new and handy features. The new TV app is especially interesting since it searches for all video streaming services present on your device and bundles them all in one location, easing up the process of finding and playing streaming videos.
Also, new screen effects for messages are here, as well as new emoji. And all users who love snapping photos will adore the new feature letting them save default camera settings. Let's check out the best 5 new features found on iOS 10.2.
New Emoji

New emoji (there are 104 new emoji in total) include a person doing a cartwheel, a dancing man, juggling, and medals. The iOS now has a huge selection of emoji, letting you find a perfect one for every occasion.
A New TV App
Don't know what to watch? There are too many streaming services at your disposal? Want to watch a movie but the choice is just too broad? Well, the new TV app gathers all of your streaming services, excluding Netflix, and recommends you what to watch, based on popularity and your own viewing history.
The app is a companion one, so after choosing what to watch, the TV app will open the corresponding app and start the stream. Not a perfect solution, but it has a potential for drastically easing up the process of selecting which movie or TV show to watch next. We just hope Apple will soon include Netflix support.
Save Default Camera Settings
Most of us like to experiment with the camera app, finding a perfect combination of settings able to provide the best photos. But, after we start the camera app again, all is lost. Well, no more. Apple included an option allowing users to save default settings so that they don't have to fiddle with them every single time. Just go to Settings->Photos & Camera->Preserve Settings, and set up your perfect combination.
Screen Effects For Messages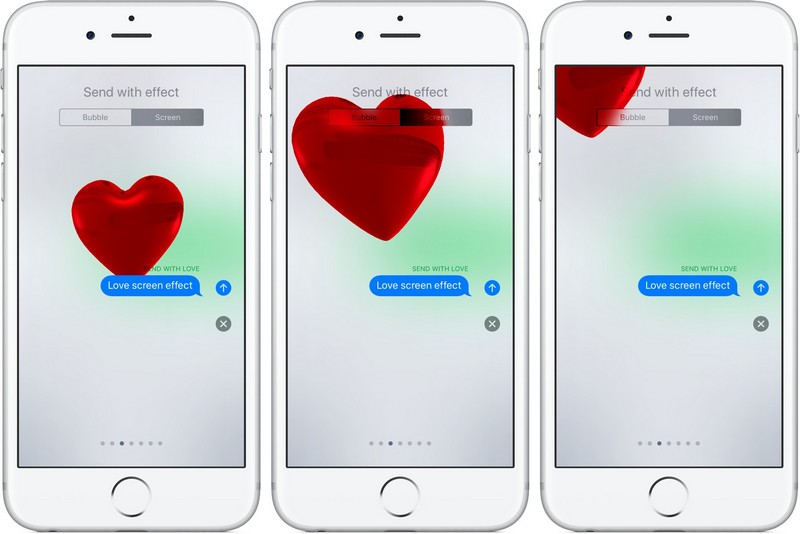 The iOS already has stickers, and from now on it has some cool screen effects. There are two screen effects bundled with iOS 10.2 – "Love" will send a big red heart alongside the message, while "celebration" will fill the screen with sparklers; perfect for any kind of celebration. A cool new feature that will make messaging more fun and dynamic.
Single Sign-On Form For Cable TV
Are you're sick and tired from constant sing-ons, over and over entering the sing in details? The new Cable TV Single Sign-On feature saves login credentials for cable subscriptions and removes the need of entering them again. Just go to settings, find a "TV Provider" and enter your details; from then on, all compatible apps will pull the data from it, easing up the login procedure. Not all cable providers support the new feature.
The new iOS 10.2 is available for iPhone models starting from the iPhone 5, for iPad 4 and up, and for iPod Touch (sixth gen and up). If you have a favorite new feature we didn't cover, let us know in the comment section below.