New reports have surfaced indicating that chip giant Intel Corp. is preparing to release the forthcoming high-end desktop Skylake and Kaby Lake-X processors this year in August.
The leak comes from the folks over at Beach life who apparently heard that the said enthusiast class CPUs will hit the store shelves following the launch at Gamescom 2017, scheduled to take place in Cologne, Germany, from Aug 22 to Aug 26.
According to the report, the launch line-up will comprise a minimum of SKUs targeted at the X299 platform. All of the new processors will be based on the 14nm FinFET process node. Having stated that, it is likely that the Kaby Lake-X chips will carry a slight edge due to the optimizations in the process. If that's the case, we can expect a notably better clock speed, as well as a superior power efficiency.
The forthcoming SKUs will include the 4 core, 6 core, 8 core, and 10 core models. While the 4 core model will be based on the Kaby Lake architecture introduced on mainstream platforms earlier this month, the other three will be powered by Skylake.
All Skylake-X models will come with 140W TDP whereas the Kaby Lake-X chip will boast a TDP of 112W. In addition, Intel may also have improvised the cache system for gaining a better output. All of them will carry the Core i7-7000-series branding.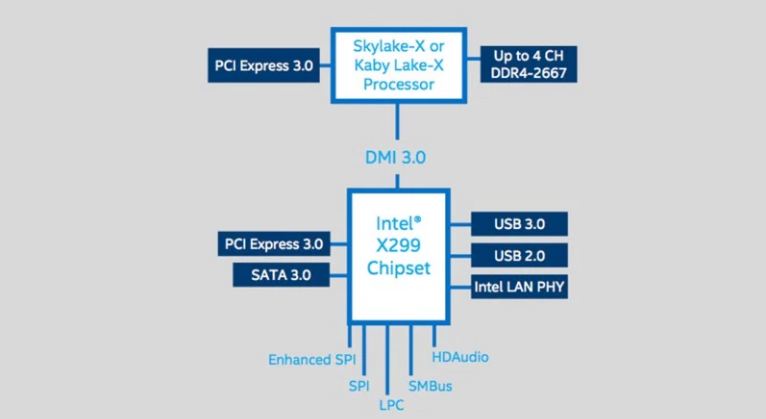 Meanwhile, it is likely that the four processors are actually K-series chips, not X-series. However, there's no confirmation yet on that front, although it might also signal that launch event won't include extreme edition processors.
Finally, the new X299 chipset from Intel will be the latest PCH to offer compatibility with the enthusiast processors. X299 specs include upto 24 PCIe Gen 3.0 lanes, quad channel memory (DDR4- 2667 MHz).
[Source]