Ever since AMD unveiled its heavily touted Ryzen line-up, things have been very different for Intel. The company has lost the top spot in the CPU arena and is once again battling it out to take the lead against AMD. This involves the launch of new 8th gen processors, but there's more to come. Intel has also started teasing future plans. At today's SAP Sapphire conference, the American giant revealed details of their upcoming Xeon Scalable Platform family, known as the Cascade Lake.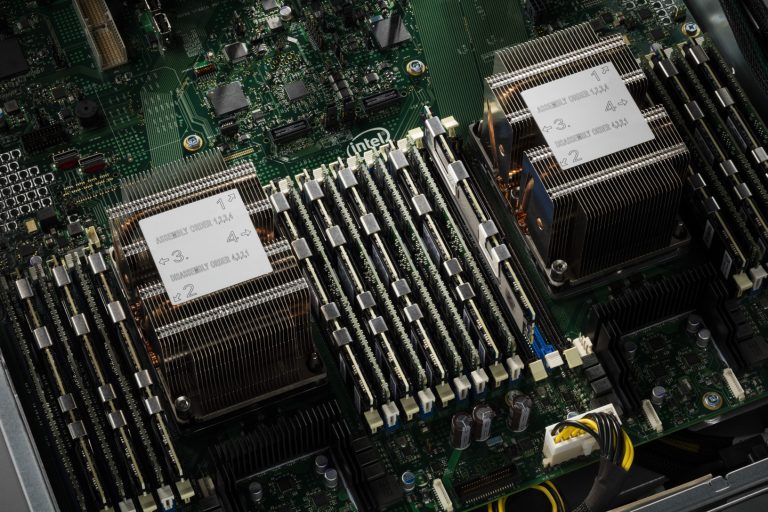 Slated to arrive sometime in 2018, the new platform will be a refresh for the yet to be released Skylake-SP Xeon family. Considering we're not even halfway through 2017, an early reveal might seem a bit odd. But, with AMD working on its powerful EPYC platform, this might be the only way for Intel to retain a strong grip over its loyalists.
An Early Reveal
For those who don't know, EPYC datacenter processors, based on the Zeppelin core architecture, are said to give Intel a tough time in the server market. Not only does EPYC looks to be disruptive in terms of raw processing power, but it would also feature with a very disruptive pricing and marketing strategy.
Intel hasn't released benchmarks of Skylake-SP Xeons, but AMD has showcased new data on EPYC's performance against Broadwell-EP (not Skylake-SP) parts. To recall, the company had also revealed a long-term roadmap for servers, suggesting that after EPYC, they'll be releasing Rome with 7nm Zen 2 cores in 2018 and Milan with 7nm+ Zen 3.0 cores in 2019.
Given the fierce competition now and in years to come, Intel has also resorted to showing off a bit. It will be interesting to see how the Cascade Lake family of processors will actually fare against AMD Rome server chips in 2018.
Intel Cascade Lake To Offer Up To 6 TB Optane DIMM Support
As per today's reveal, Cascade Lake will be a refresh over Skylake-SP with same architecture but on a slightly new 14nm+ node, which would increase power efficiency, core-count and clock-speeds of the chip.
But, that's not the only thing changing. There would be a big bump-up in terms of memory support. Intel is going to add support for their next-gen 3D XPoint based Optane DIMMs, allowing for the platform to support up to 6x memory capacity. Meaning, the next-gen Cascade Lake CPUs will be capable of being thrown into 4-socket configurations, supporting up to 3TB of memory, while the 8-socket systems will support up to 6TB of memory goodness.
The company said, "Intel persistent memory will allow users to improve system performance dramatically by putting more data closer to the processor on nonvolatile media, and do it in an affordable manner. This will truly be a game-changer when it comes to the way applications and systems are designed".
Adding more to its claim of enhanced system performance, Intel used a Xeon E7-8890 v4 (Broadwell-EN) processor in quad configuration against a Cascade Lake-SP processor in the same configuration. The result being, Cascade Lake delivered a performance increase of 1.59x over the Broadwell E based system.
All of this surely makes up a major upgrade over Skylake-SP, but as we said, the release is scheduled for 2018, and we have a whole year to go. Hopes for more from Intel details are still high, but till then, we'll just have to wait with what've got. Stay tuned for more updates!