While we have had fair share of news about Huawei's version of the next Nexus, LG's edition has been clouded in mystery. But not anymore, as the curtain starts to lift dramatically and slowly from LG's Nexus as well. For those of you unaware of the Nexus situation developing this year, we're going to be have two devices– a 5.2" phone from LG and a 5.7" phablet from Huawei, as we reported earlier this year.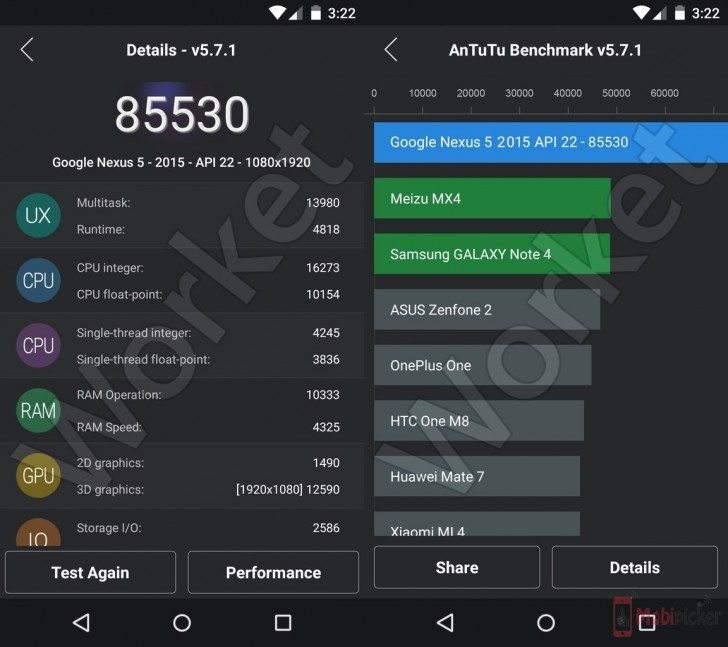 A leaked benchmark test courtesy of the folks at AnTuTu has revealed something we can rejoice in! The new Nexus has clocked in at 85,000 at AnTuTu's benchmark test. The test comes from the LG handset and 85530 is above anything we've ever seen!
Let's take a look at it in comparison to handsets currently in the market. The Galaxy S6 and its twin the S6 edge benchmarked at 60,000+ with their Exynos 7420 and are the current aces of the mobile phone universe. This suggests that LG has incorporated a next generation chipset into the new Nexus and we have reasons to believe it is the Qualcomm Snapdragon 820.
Also worthy of mentioning is the name of the device visible on the scorecard– the Google Nexus 5(2015). As it seems,the incremental naming of the Nexus devices has been dropped and instead we are settling for the Nexus' being named according to their screen size. As according to the name Nexus 5(2015) it is safe to assume LG's version would lie somewhere around 5-inches in screen size.
Lastly, an anomaly that is worth mentioning. AnTuTu has found the Nexus 5(2015) to sport a Full HD display. This is quite peculiar considering that the Nexus 6 boasts a 1440 x 2560 pixels QHD display. Perhaps Google has found the display a worthy sacrifice for the smaller edition of the Nexus this year.
Back to our tagline now, if the Galaxy S6 is a beast, the Nexus 5(2015) is…? Tell us what you think!