Budget smartphones are the current trend, with so many new companies venturing into market with competitively priced phones. Similarly, budget smartwatches have started pouring in and provide users a taste of technology without burning a hole in their pockets.
Thanks to our friends at TinyDeal, we have got our reviewer-hands at the very cool i95 Android Smartwatch. After using the gadget extensively for almost a week, we pretty much noticed all its ups and downs. And from what we learned, the i95 Smartwatch is not any other cheap Chinese gadget. It's a serious smartwatch for those who don't want to start from the hyper-expensive Apple Watch or its similar rivals.
But is the i95 Android 4.3 Smartwatch really worth buying? Let's find out!
What's in the Box?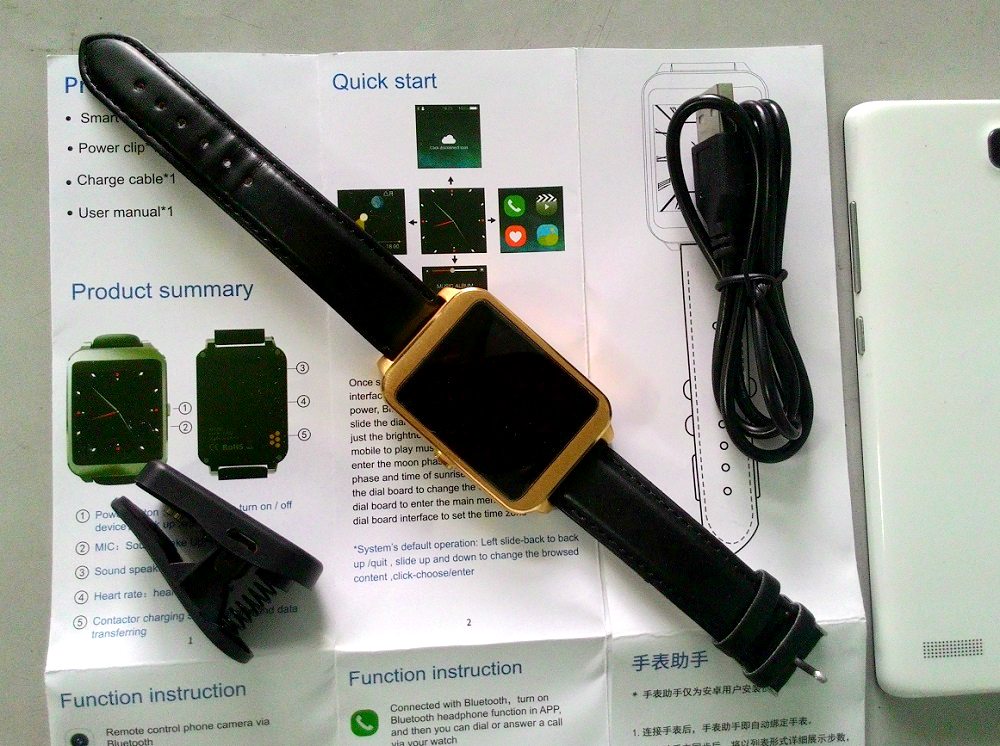 The i95 Smartwatch comes in a compact-sized box. The packaging is firm and the first thing you will find inside is the watch itself. Then there's a USB cable for charging and data transfer to the watch. You get a five-pin clip charger for the watch. Lastly, there's a basic user manual which was actually a bit helpful at the start.
Look and Feel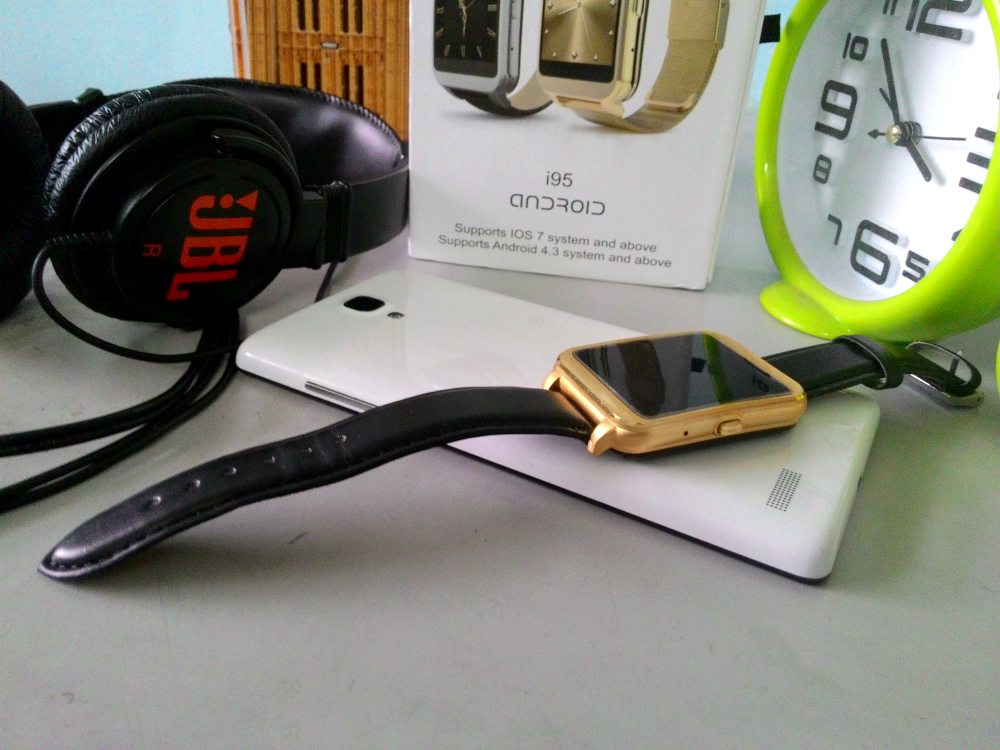 We got the i95 in Gold color for our review, and this one came with a Black leather strap. The Gold stainless steel frame looks good without being too flashy, while the rear side is covered by a matte Black fibre back. The leather strap and the whole watch feels very solid and sturdy, and never did we feel the i95 to be "cheap".
The 50g smartwatch fits perfectly on the wrist and looks nice. You get to choose from Black, Silver, and Gold colors for the body, and the same colors are available for the metal strap if you choose the Extreme Edition. The smartwatch is IP65 certified and is waterproof.
Display and Touch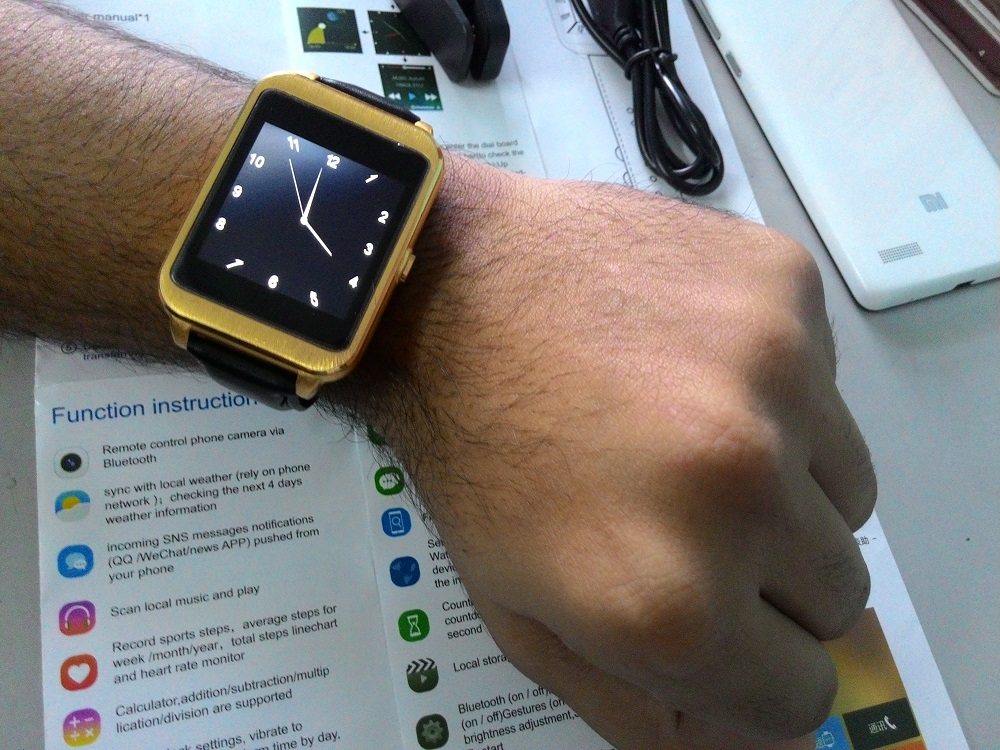 The i95 Android Smartwatch gets a 1.54 inch TFT touchscreen display with a resolution of 320 x 320. We had initially expected the display to be an average one, but we were surprised with the smooth touch and beautiful color reproduction along with easy brightness control. The display really is very bright even in direct sunlight.
The company claims on the box that the display gets Gorilla Glass protection, but we haven't tried it yet as the watch came with a scratch guard on the screen.
Processor, OS, and Memory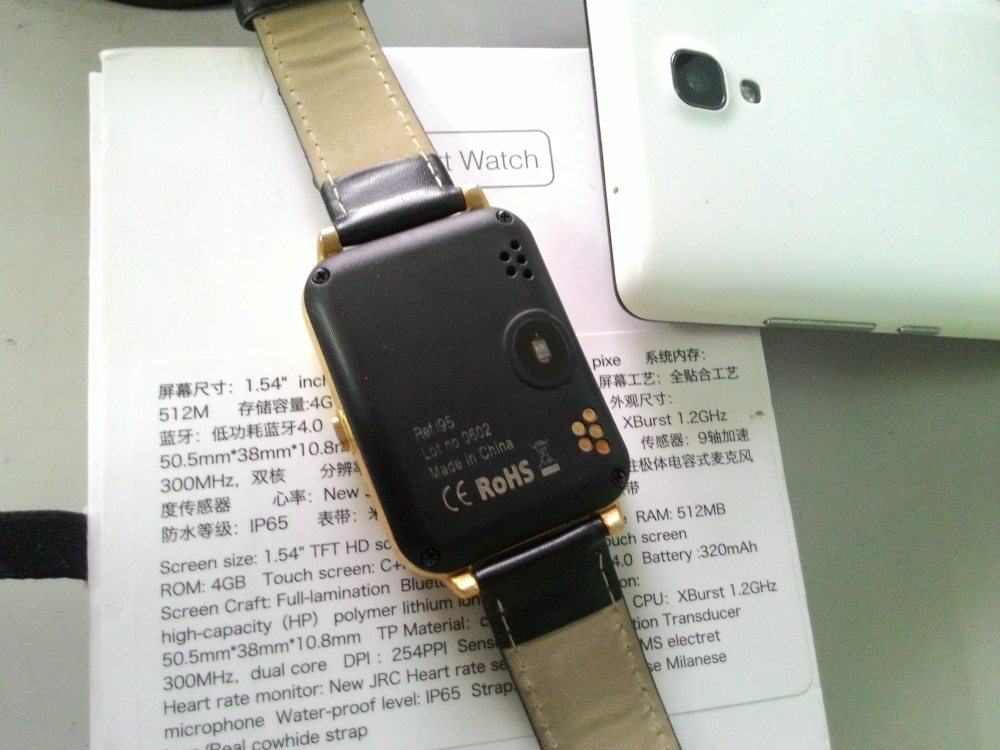 The i95 Android 4.3 Smartwatch is powered by a 1.2GHz XBurst dual-core CPU and gets 512MB of RAM under its hood. You also get 4GB of onboard storage, out of which only around 2.8GB is available for the user. You can transfer music, images, and videos to the watch through the USB cable and clip provided in the box.
Android 4.3 is pre-installed in the i95. It looks very good and feels very simple as it should be in a smartwatch. The icons are pretty, and you also get to change the theme, which also changes the icons. The whole Android environment is familiar; just that you need to know how to navigate. Simple swipe gestures make it very easy to move around in the OS.
Talking about the real-world performance, the OS feels peppy and the processor is adequate for the watch. Though the OS did not hang even when we threw more than a couple of simultaneous tasks at it, there is still around half-a-second of lag when switching between screens. But then again, it's nothing annoying.
Multimedia Features
Who says a smartwatch can't entertain you? Well, the i95 Android Smartwatch can play music and videos. And the speaker volume is pretty decent when you are in a silent place. There's also a gallery for your pictures. You can even control the music on your phone via the watch once both the devices are connected through Bluetooth.
Fitness Features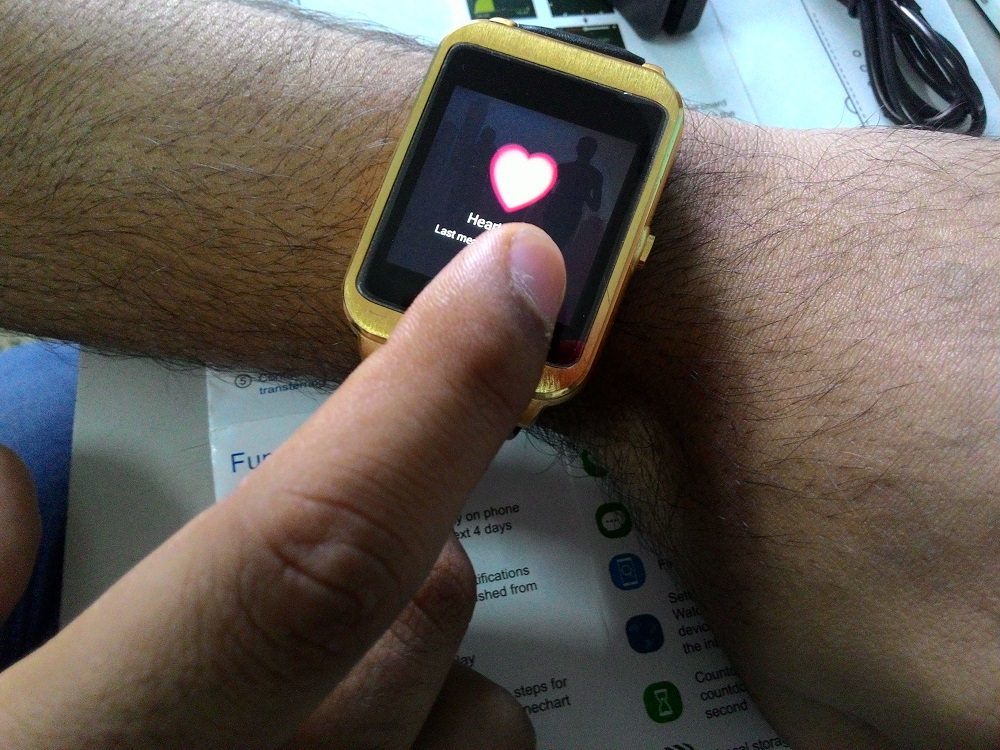 The i95 comes with a heart rate monitor, which calculates your heart rate using the tracker given at the rear side of the watch. It may not be accurate in showing your heartbeats per minute, but still gives you a rough idea of your heart's condition. You also get a pedometer to keep a check on your step count. This also is not so accurate, yet it's not bad at all to have in the watch.
Connectivity, Notifications, and Battery
First things first. You need to install the Watch Manager app that you can only download by scanning the QR code given in the watch. After you have downloaded it, you need to open it and scan the QR code of your watch, which can be found by tapping on the cloud icon. Just go the main clock screen and swipe down to bring the notification panel; you will see the cloud icon there.
Once you are connected to your i95 watch, you will received notifications when your phone receives messages or calls. And yes, you can pick calls directly on the watch, as it has got a microphone and speaker too.
The smartwatch comes with an in-built 320mAh battery that claims a standby time of 168 hours. During the time we tested the watch, it lasted us one complete day with heavy use of all the features. With normal usage, we're sure it would last at least two if not three days.
Other Features
The menu in the i95 Android Smartwatch offers you a quick calendar to keep a check on your dates. You also get a reminder, stop watch, and alarm function. The alarm function can be helpful for those who do not wake up to their smartphone's alarm, as the watch vibrates very rigorously and you won't be able to not wake up with that on your wrist.
Then there's a phone finder icon that rings your phone if you have misplaced it somewhere around you and can't find it. You also get a calculator and sound recorder app beside a couple of Chinese games that are useless. There's a camera icon in the menu too, which controls the camera of your smartphone and allows you to take pictures without having to touch your phone (it makes you feel like James Bond). There's a web browser too, but it's in Chinese and we couldn't get it to work properly.
Price and Verdict
After using the i95 Android 4.3 Smartwatch for a week, we can surely say that this is a good smartwatch. If you don't want to burn your hard-earned money on the expensive alternatives and still want to have the convenience of a smartwatch, then this is a must-buy.
The i95 Smartwatch costs $88.54 and can be bought from TinyDeal. We will be releasing the hands-on video of the i95 Android Smartwatch soon, so stay tuned!