"Hunter X Hunter" is surely back with the creator Yoshihiro Togashi coming out with his compilation notes for the upcoming chapters. Fans are just eagerly waiting for the manga series to air on television. But as of now, they can at least find out the fate of Hisoka and Chrollo and the course of the story. Check out in detail!
Hisoka is a big hunter and it is very difficult to outdo him in the "Hunter X Hunter" world. He is a flamboyant character with sociopathic personality. It is the basic nature of Hisoka to kill anyone who crosses his path. But it seems Togashi has planned a twist to the story which is why he has stopped Hisoka from killing one of the hot favorite characters of the series, Machi, says, Comicbook.
Togashi Marks 'Hunter X Hunter' Return With New Notes
Thankfully, the hiatus of "Hunter X Hunter" has ended and to mark the occasion, the creator came off with some newly published notes. The new volume of notes of the manga series hit the bookstores recently thereby ending the hiatus.
Interestingly, Togashi has shared a lot of notes within the pages that reveal few things about Hisoka, Machi and more. Although the original notes are in Japanese, fan translators have immediately made available the English version to the English speaking fans of the manga series. The notes reveal that Hisoka was very close to killing Machi.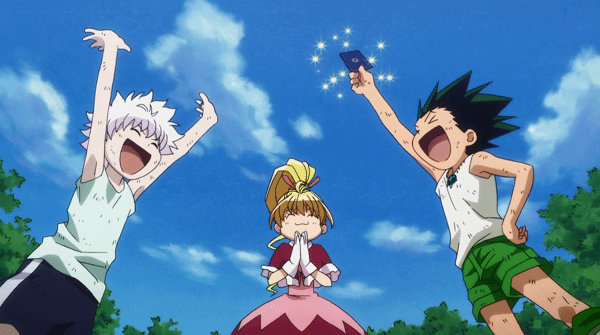 According to the illustrator and co-creator of "Hunter X Hunter," he did not want Hisoka to kill any member of the Troupe. Togashi said that even though the flow of the complete story has already been planned, he is yet to decide exactly who will Hisoka kill finally.
He stated that even though there is a situation in the manga series in which Hisoka wants to kill Machi, the creator rejected it so that at least a messenger to the rest of the Troupe is alive. Togashi believes that leaving Machi alive would make things more interesting, especially when Chrollo and Hisoka clash again in the manga series.
'Hunter X Hunter' Chapter 361 Spoilers
Chapter 361 of the series titled, "Withdrawal" focus on the Sairid and Kurapika battle wherein the latter ultimately subdue the former hunter whom the Nen Beast had controlled with his power. Kurapika uses the Steel Chain to absorb all the aura of Sairid and extract the parasite that has inhabited in his body.
The parasite is a spider-like creature and manages to escape. Fans can catch up with the "Hunter X Hunter" Chapter 361 English version on the Shonen Jump digital magazine.