Huawei is all geared up to showcase the new Huawei P10 smartphone at MWC (Mobile World Congress) event. But, that's not the only device to share the center stage this year. The company will also showcase the long-awaited Huawei Watch 2 (code name Leo) at the event.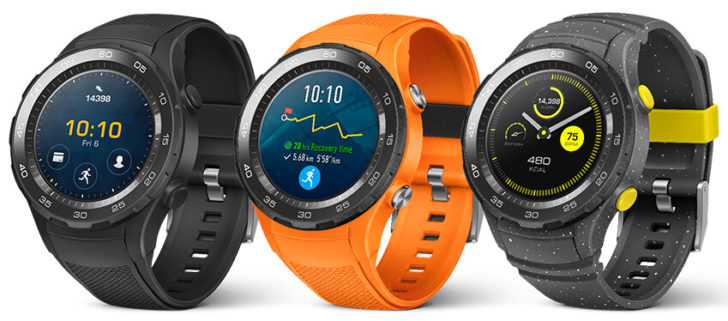 However, before that happens, VentureBeat has managed to get its hand on the official press images for the device, showcasing the smartwatch in full glory. Huawei has gone with a complete makeover and it looks nothing like the original Huawei Watch. The new one seems sportier than the first generation offering.
Huawei Watch 2
The all new Huawei Watch 2 will feature Android Wear 2.0 at the helm. However, this time around, the watch will sport two standard buttons on the side instead of the digital crown. There is a rubber band now, which flows seemly into the body of the watch. Exact measurements aren't available, but it does seem thicker on the sides. Cellular connectivity might be the reason behind this thickness. As you can see in the image below, the SIM tray hidden behind one of the band attachments.
The new leaks also showcase the colors in which the smartwatch will be released: black, orange, and speckled gray. Huawei Watch 2 will be announced at MWC 2017 starting February 26 in Barcelona. Availability and pricing will be disclosed at the event.

Overall, the Huawei Watch 2 looks decent and more stylish than last year work. It will be interesting to see if Huawei can gain some traction in the smart wear segment.
Check Also: Best Apple Watch Apps