Brace yourselves, Huawei fans! The company is going to hold a press conference in the UK on 6th April to launch its upcoming flagship, the Huawei P9. The launch date is still about a month to go, but the Oppomart online store has already added the P9 to its listing. This has revealed the specs and pricing of the phone, wait, it's actually "phones". The Huawei P9 is going to have several variants.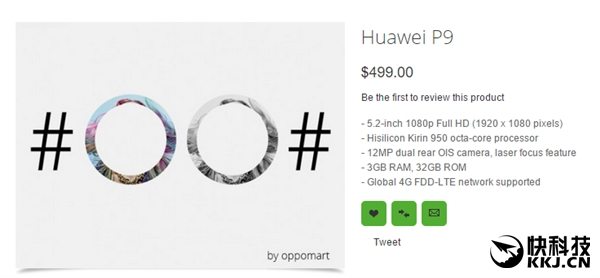 Starting with the Huawei P9, there's the P9 Pro, P9 Max, and the P9 Lite. The P9 will be the standard version, the P9 Pro will be the top-end model, the P9 Max will be the big-screen version of the P9 Pro, while the P9 Lite will be the stripped-down version of the P9.
Talking about the specs, the Huawei P9 will get a 5.2-inches FullHD screen and will be powered by a 2GHz Kirin 950 processor. There's 3GB of RAM, and though most of the other flagships are offering 4GB of RAM, we think 3GB is well enough with that fast a processor. The phone gets 32GB of eMMC 5.0 internal storage and is juiced by a 3000mAh battery. Running EMUI based on Android 6.0 Marshmallow, the P9 gets a 5MP front camera and a dual 12MP rear camera.
The Huawei P9 Pro competes with all the other flagships in the market with a faster Kirin 955 processor, 4GB of RAM, and 64GB of onboard storage. The P9 Max gets the same specs as the Pro but with a 6.2-inches FullHD screen. Lastly, the P9 Lite comes with a Kirin 650 chip, gets 2GB of RAM, and 16GB of internal storage.
The Huawei P9 is priced at $499, while the P9 Pro will sell for $599. The P9 Max will be sold for $699, and the P9 Lite will come with an affordable $299 price tag. Do note that all these prices are approximate and are subject to change after the launch.
We'll keep you updated on the status of the launch. Any takers for these phones?