A new device from Huawei dubbed as Huawei angler has been spotted on the Geekbench benchmark test. It seems the Huawei angler is the codename for the device while it is a Nexus device from the manufacturer. According to the tests the device is powered by Qualcomm's Snapdragon 810SoC and runs on android. The device is having an octa-core cpu with Adreno 430 GPU. It will also feature a 3GB RAM as revealed by the tests.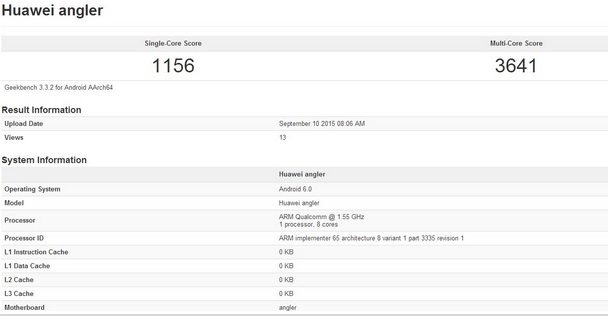 The Huawei nexus 6 with a single core scored 1156 points on the geekbench while the multi core score is 3641 which is quite close to the score of Nexus 5 from LG. The device from LG is powered by SD808 SoC with a hexa core-cpu scoring 1082 with single core while the multi-core makes it stand at 3298.
The Huawei Nexus 6 Geekbench test reveals that it will come with Android 6.0 pre-installed and come along with Nexus 5X on September' 29th. As the device has made an appearance on benchmark site, we can expect it come soon.