Today we have a clash of three models, meant to be relatively affordable answers to top flagship smartphone models. Huawei Honor 8 is a phone with top of the line processor, a full metal body, and a dual-camera setup. OnePlus 3 is a classic "flagship killer" bringing 6 gigs of RAM and a Snapdragon 820 for an incredible price, while ZTE Axon 7 comes as a top model from a manufacturer that saw a big fall in sales (mostly because of the rise of other Chinese manufacturers, like Huawei and Xiaomi) and now tries to get back on the map. ZTE Axon 7 brings a superb 1440p screen, magnificent audio capabilities, and an excellent camera; all that packed into a full metal chassis offered for just $400, the same price OnePlus 3 has. Let's see how the three compare one to another.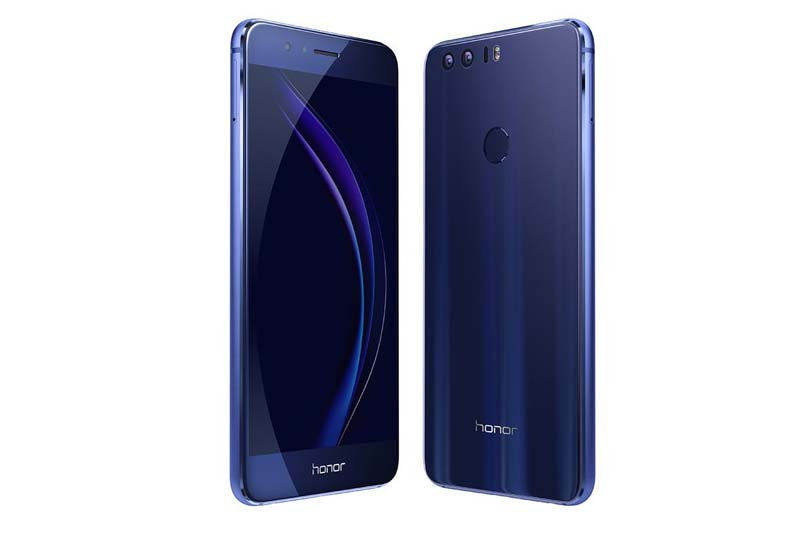 Dimensions, Design
The Honor 8 packs the smallest screen, thus having the most compact dimensions (145.5 x 71 x 7.5 mm), and with its shiny metal body, marvelously placed camera and fingerprint scanner, thin profile and almost invisible bezels, the Honor 8 is one very attractive device.
OnePlus 3 is a bigger device, with a 5.5-inch screen, metal body, and a look reminiscing the One series from HTC, aside from the big Home button located under the screen. Its dimensions are 152.7 x 74.7 x 7.4 mm, topping the Honor 8 in width and height, being just a bit thinner. OnePlus 3 is an appealing device, the phone looks much better when seen live, so if thinking about getting OnePlus 3 but not liking it on the photos, try finding one and check it out with your own eyes.
ZTE Axon 7 is a device launching ZTE back into the top group of manufacturers that make top models. The phone's dimensions are 151.7 x 75 x 7.9 mm, making it almost the same size as the OnePlus 3 (expected since both models sport 5.5-inch screens). The difference in thickness is explained by Axon's larger capacity battery. The phone doesn't really strike the flagship cord, its design looks like engineers tried to put everything on the phone, making it look bulky, especially with those stereo speakers on the front. Anyway, out of three models, we compare today, ZTE Axon 7 has least impressed us, at least with its looks.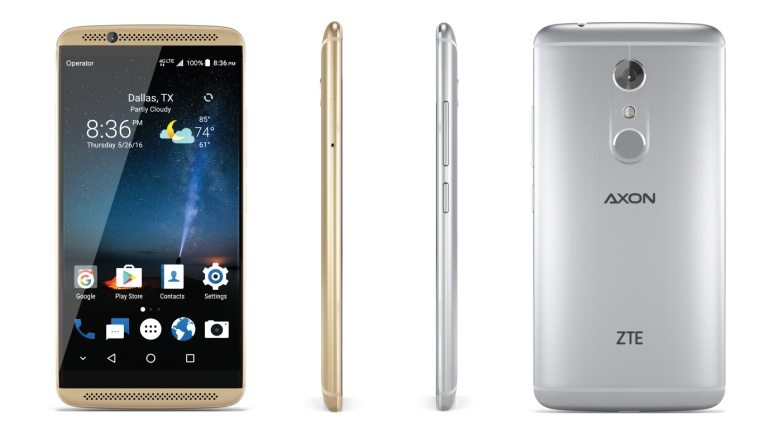 Hardware, Display
The Honor 8 is powered by Huawei's own Kirin 950 chipset (4×2.3 GHz Cortex-A72 & 4×1.8 GHz Cortex A53 along with Mali-T880 MP4 GPU), an (almost) top of the line choice, able of topping Snapdragon 810, making it better than last year's flagship chipset, but still behind this year's beasts. At the end, since the phone has "only" 1080p display, Kirin 950 is more than enough for any kind of task. Coupled with 4 gigs of RAM and a choice between 32 GB and 64 GB of expandable storage, the Honor 8 is just one step away from this year's flagship devices.
OnePlus 3 and the Axon 7 come equipped with the Snapdragon 820 (2×2.15 GHz Kryo & 2×1.6 GHz Kryo coupled with Adreno 530), offering monstrous performance under any circumstances. OnePlus 3 also comes with 6 gigs of RAM (a bit of an overkill, since six gigs of RAM are just too much to be used maximally) and 64 GB of unexpandable storage. The Axon 7 has 4 GB of RAM and 64 GB of internal storage which, luckily, can be expanded. Both models provide a maximum performance, without any compromises.
The Honor 8 features a 5.2-inch, 1080p, LTPS LCD display offering natural colors and a fast response rate (great for gaming). The screen isn't too large and sharpness (423 ppi pixel density) is more than enough, you won't notice a pixel even if you look at the screen from a millimeter away.
OnePlus 3, even if it comes with "1440p or nothing" Snapdragon 820, features a 5.5-inch Optic AMOLED with "just" 1080p resolution (401 ppi pixel density). Although the resolution might be too low for Snapdragon 829 to show all of its power, the display is pretty sharp (remember when 300 ppi density was believed to be incredibly high?) and will be great for watching videos, reading books, playing games or anything else you might be doing on your smartphone.
The Axon 7 has the highest resolution (1440p) display. It measures 5.5-inches, and it has AMOLED matrix. AMOLED means deep blacks, rich colors, so as OnePlus 3, The Axon 7 is a great device for any kind of use, except for the use with one hand.
Camera
Huawei Honor 8 comes with a dual-camera setup (one RGB sensor, on BW sensor, excellent bokeh effect and nice performance in low light conditions). It is equipped with dual 12 MP sensors (f/2.2) and features laser autofocus, HDR, and a dual-LED flash. The main camera is capable of recording [email protected] videos, as well as [email protected] slow-mo videos. The selfie camera counts 8 MP (f/2.4).
OnePlus 3 features 16 MP main snapper (f/2.0) featuring phase detection autofocus, OIS, LED flash and HDR. The camera can record [email protected], as well as [email protected] videos. Front-side camera has 8 MP (f/2.0) and is capable of recording 1080p videos.
The Axon 7 comes with a huge resolution, 20 MP (f/1.8) main camera. Large aperture size guarantees excellent low light photos; combine that with 20 MP sensor and you got yourself one pretty capable snapper. The main camera supports phase detection autofocus, OIS, dual-LED flash and HDR, and is capable of recording [email protected] as well as [email protected] videos. The selfie camera has 8 MP (f/2.2) and can record 1080p videos.
Battery, Software
The Honor 8 comes with a 3000 mAh battery and works under Android Marshmallow coated with Huawei's EMUI. OnePlus 3 works under Android Marshmallow (an upgrade to Nougat is planned), coated with OnePlus' Oxygen OS; the phone is equipped with the same capacity battery as the one featured on the Honor 8. The Axon 7 features 3250 mAh battery, it runs under Android Marshmallow coated with MiFavor UI.
All phones come equipped with a fingerprint scanner, and the Axon 7 also features superb audio capabilities (stereo speakers, Dolby Atmos technology). It's worth noting that all models support fast battery charging.
Conclusion
So, the Honor 8 us a great choice for users not wanting a huge screen, wanting a phone that can match last year's flagships in all expect price, and for photography lovers.
The other two models are very similar. OnePlus 3 has a better looking (better to say "cleaner") UI featuring almost pure Android, while the Axon 7 has a higher resolution display, better camera, and an expandable memory. If you just want the looks, pick up OnePlus 3; if the hardware is what you after, go with the Axon 7.