It looks like Google is not the only one with the major announcements today.  Jason Mackenzie dropped a few details on his Twitter regarding the Android 6.0 Marshmallow coming to HTC devices soon. In fact, two news were given out by Mackenzie, the second one promises details revealed on 20 October regarding a brand new Marshmallow-powered device. Mackenzie's words were the following: "Serving up Marshmallow sweetness real soon. Android 6.0 to start hitting HTC before the end of the year…", and the other announcement is promoted under hashtag: "BeBrilliant", so let's hope it will indeed bring us some brilliance.
According to the statement, the HTC One M8 and M9 will receive the Marshmallow update before the end of this year. Mackenzie posted the following table that covers these details: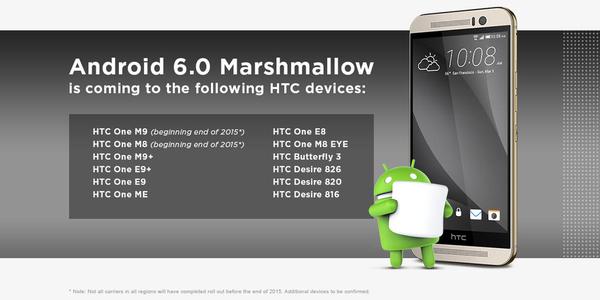 Regarding the second piece of news, we can all begin to speculate what the new Marshmallow running HTC device will be like, and how it will survive the strong competition. The phone Mackenzie is hinting about, announced 20 October, might be the HTC One A9/Aero, which will surely come with the Marshmallow from start.
It is more than evident that the announcement was most likely done today intentionally on the same day when Google has given out some similarly significant ones.