Its raining Marshmallows! With many smartphone brands ready with their Android v6.0 Marshmallow loaded flagships or releasing update packages, HTC has also jumped in, shooting update packages for its flagship series 'One' devices in the US, One M8 being the very first.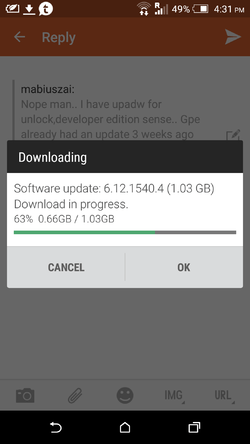 The update package is over a gigabyte and to see it happening right, download over a fast broadband or LTE/3G connection with good network. The contract users might get little faded as HTC has released the update only for the unlocked and the developer version of the One M8. The carrier handsets will see the marshmallow-ness not until the start of 2016. And if you really care about a few weeks, little tweaks with your handset might help to convert it to unlocked model as some of the European users have reported.
It is worth noting that HTC although has released the update for the One M8, but has left out its current flagship the One M9. This might gloom the M9 owners.
The HTC One M8 is receiving the firmware version 6.12.1540.4. The new OS from google offers many improvements over its not so different predecessor, Lollipop v5.1.1. The Doze mode is a more enhanced deep sleep feature to save some more juice. Central payment system, Android Pay also debut with the Marshmallow OS along with an updated Play Store.