HTC is offering great discounts on its flagships offering in the US for this Valentine's Day. HTC 10, HTC One A9, and HTC One M9 have received hefty price cuts for the loving day. Sadly, the newly launched, HTC U Ultra, doesn't feature in this list. Still, if you want an HTC device in your hand, this might be the right time to have one.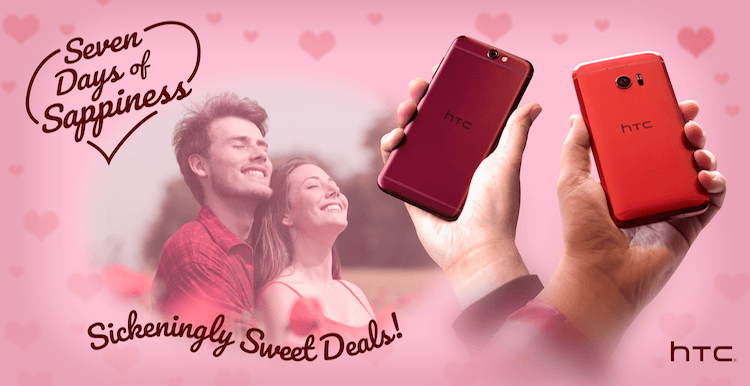 Deal on HTC 10
The HTC 10 is priced at $699 in the US. Under the offer, the same can be had at just $549, $150 less from the standard price. It's a great device at this price, although not the latest or greatest from HTC. It features a 5.5-Inch Super LCD3 Full HD display powered by Qualcomm Snapdragon 820 chipset and 4 Gigs of RAM. Internal storage for the HTC 10 stands at 32 GB with expandable capabilities of up to 256 Gigabyte. Camera department of the 2016 flagship comprises of 12 MP rear and 5 MP front shooters.
Deal on HTC One A9
Also known as iPhone sibling or iPhone clone, the HTC One A9 is one of the most beautifully designed smartphones from the Taiwanese factory. It's going for just $299, that's a straight price cut of $200 from the regular $499 pricing. The smartphone sports a 5-Inch Full HD AMOLED panel on front powered by Qualcomm Snapdragon 617 chipset. You get 3 Gigs of RAM with 32 Internal storage on this smartphone. As for the camera, there is a 13 MP camera unit on the back, along with 4 MP ultra pixel shooter on the front.
Deal on HTC One M9
The last one on the discounted list is HTC One M9, a flagship from two years ago. It can be purchased at just $399 from the regular pricing of $649. That's a direct saving of $250. HTC One M9 features a 5-Inch Full HD Super LCD3 display on the front. It is powered by Qualcomm Snapdragon 810 chipset and 3 Gigs of RAM. Camera department of the HTC One M9 comprises of 20 MP rear and 4 MP front shooters. Overall, it's still a decent offering in 2017.
The discount deals from HTC will run until February 17. Along with the discounted deals, users will also get some freebies which include a water mug or a notepad. So, it's best you act fast and decide now.
Check Also: Tech Gift Ideas for Valentine's Day