A new Windows phone codenamed HP Falcon has been spotted on GFXBench site. Well, a lot of devices pass through benchmarking sites everyday, so it's a common sight. But what's not so common about this phone is that it carries Qualcomm's latest Snapdragon 820 chipset.
According to the GFXBench listing, the alleged HP Falcon sports a large 5.8-inch display with a resolution of 2560 x 1440 pixel. Though we do not claim that this information is 100% correct, as benchmarks are known to provide erroneous screen details at times. Also listed in the details of the Falcon is a 20MP rear camera, while a whopping 12MP camera sits at the front.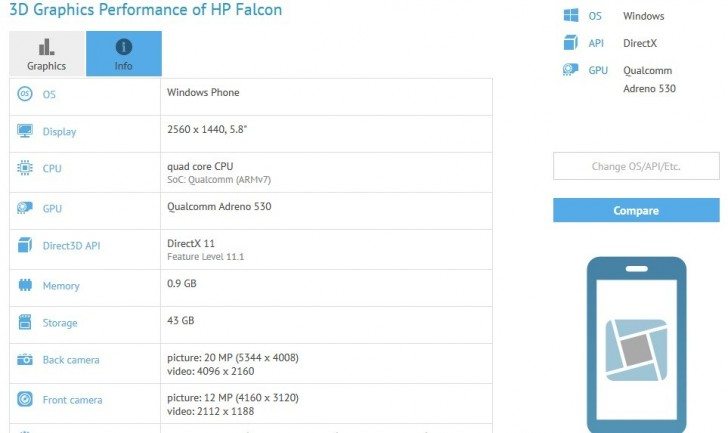 The report mentions the phone to include 1GB of RAM and 43GB of storage, which does not go well with the other specs and is of course a mistake on the part of the benchmark. We guess it should be 3GB/4GB of RAM and 64GB/128GB of storage, going by the high-end Windows phone standards.
What's more surprising is that the phone comes from HP, which is a bit suspicious considering the fact that there were no rumors or announcements whatsoever from the company about such a phone. But the rumors do start somewhere, and HP might be looking to surprise us with this phone. Or it could even be the successor to the Microsoft Lumia 950 XL. What do you think about the HP Falcon?