Are you looking for ways to root Samsung Galaxy Note 8? Just like many other Android devices, Samsung's newly launched Note 8 also has root access available. Most of the Android smartphones are full of many bloatware apps, and by rooting the device you can get rid of them. In this guide, we will help you root Galaxy Note 8 device.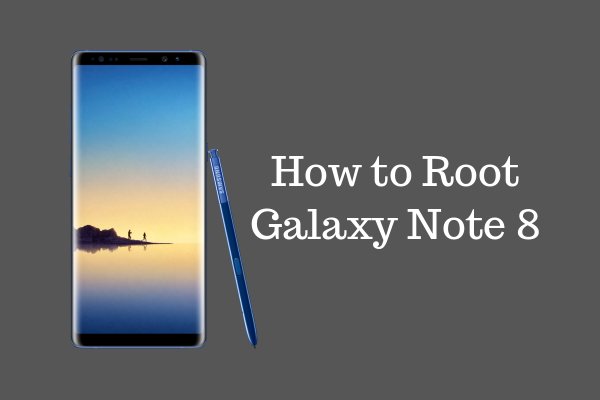 How to Root Galaxy Note 8
In this guide, we will be using TWRP recovery to root Samsung Galaxy Note 8. We can root the phone by both SuperSU and Magisk. So far, these are the only ways available to root Note 8, and also it is not available for all the models. The rooting process is only available for Note 8 devices using Exynos processor, i.e model no. SM-N950F/FD/X/N. Remaining models of Note 8, which are sold in the US, China and Canada, are not root capable. If you are using the Samsung Note 8 with following model numbers, do not proceed any further. Model numbers SM-N950U (US), SM-N950W (Canada) and SM-N9508/0/5 (China) should not be tried to root.
Supported Models (Exynos Processor): SM-N950F, SM-N950FD, SM-N950X, SM-N950N
Models NOT Supported (Snapdragon Processor): SM-N950U, SM-N950U1, SM-N950W, SM-N9508, SM-N9500, SM-N9505, and every other model with Snapdragon Processor.
This is basically an unofficial port to root Note 8 using TWRP recovery. This method uses Galaxy S8's TWRP code. Due to this, there are a few issues after the root process is complete, but surely they will be gone in the coming months of development. It is still in initial phase, so we can't really complain. And as the Android Oreo update is pushed, soon we might get LineageOS 15 ROM for Note 8.
Disclaimer: Do not proceed any further if you don't completely understand the process. Rooting is not a safe operation and will void your smartphone's warranty. There is a chance that your phone might not work properly after root. MobiPicker is not responsible for any damages that may occur to your phone during or after the process. If you still want to proceed, then take a full backup of your data before going through with the process.
Download Note 8 Root Files
You will need a few apps, software and file packages to root your Note 8. Follow the links below to download the same.
Galaxy Note 8 TWRP Recovery 3.1.1 – Link
Download Odin and Install Samsung USB Drivers
Root Package: Download any of the below root packages. Both follow same methods.
Magisk | SuperSU 2.82 SR4
Important
#1: Once again make sure that you are using the compatible device to root. Check the packaging box. You can also go to your phone Settings > About, to check the model number. If your phone's model number is not listed above as compatible for root, then do not proceed to root the device. The device will become useless if it is not compatible. Also, do not attempt to root any other Android device using this method. This method is strictly to root certain models of Samsung Galaxy Note 8.
Check Also: How to root Galaxy S8
#2: Rooting an Android device voids its warranty. Sometimes, the device ends up not working properly or completely dead after the root process. Only you are responsible for your device. We are not liable for (if) any damage occurs to your device.
Backup Your Galaxy Note 8
Backup is very important before rooting your device. So, backup all the important files on your Galaxy Note 8 before proceeding. There's a chance Odin may delete all your files after the root process is complete.
How to Unlock OEM on Galaxy Note 8
Before installing the TWRP Recovery on your device, you have to make sure the OEM Unlock is enabled. To do this, follow these steps:
STEP 1. Go to Settings. Select About Phone.
STEP 2. Tap the Build number min. 7 times, till you see the message "You're now a developer."
STEP 3. Go to Settings, and select Developer Options. Find OEM Unlock and enable it.
If you are using the model which is incompatible, then you won't find the unlock OEM option in the Developer Options. If it is the case, then proceed no further as your device is not yet capable of root.
How to Install TWRP Recovery on Galaxy Note 8
Now, as you are done unlocking OEM on your device, we can begin the root process. Here's how to install TWRP Recovery on Note 8:
Check Also: How to take screenshot on Galaxy Note 8
Root Note 8 with SuperSU or Magisk
STEP 1. Download SuperSU or Magisk to your phone's external memory card by following the links provided above. Root using SuperSU or Magisk is your preference. You can root your phone using both.
STEP 2: Download Odin on your PC and open it.
STEP 3. Download Note 8 TWRP file on PC via the link given above in download section.
STEP 4. Turn off your device and turn it back on by pressing and holding Power + Bixby + Vol Down together to reboot in download mode. Soon you will see an option to continue to download mode. Press Vol Up to do so.
STEP 5. Connect your Note 8 to PC. Odin will recognize your device, and display Added!! message in the log box.
STEP 6. In Odin, disable Auto Reboot from the options menu.
STEP 7. Next step is to load TWRP file into Odin. To do this, click AP and select the TWRP file, which will be in .TAR format. Click Start and wait for the installation to finish. Soon it will be flashed successfully and the message will appear Passed on Odin.
STEP 8. Now, read this step carefully and perform on your device. You will have to perform certain parts of this step quickly. First, disconnect your device from the PC. Press and hold Vol Down + Power till the screen goes off. As soon as the screen goes off, immediately press Vol Up + Bixby + Power buttons altogether. This will reboot your device to TWRP.
STEP 9. When the phone starts in TWRP recovery, select Allow Modification.
STEP 10. Tap on WIPE, then select FORMAT DATA. You will need to type YES to perform the wipe. This process will erase all the data from your device, including the data present on internal storage.
STEP 11. Now, when the formatting process is complete, go back and select Reboot. Tap Recovery to reboot to TWRP.
STEP 12. Now all you have to do is to locate the SuperSU file downloaded earlier on your external memory card. Select Install and locate the SuperSU file or Magisk file (whichever you prefer).
STEP 13. After the SuperSU or Magisk flash process is complete, reboot your device. It may take some time to reboot as we have formatted the data recently.
That's it. The process is complete. Credits to XDA member Dr Ketan.
Conclusion
Rooting allows you to have unlimited access and full control over your device. As there are a number of useless apps and many restrictions on almost every Android device, you can get rid of them by rooting. This also allows you to customize your device the way you want by using different ROM's. But rooting also voids the warranty of your device. Rooting itself is a very risky process to perform, as many times devices end up being useless. So, if you want to root Galaxy Note 8, or any device, do it carefully and at your own risk.
Check Also: OK Google not working on Galaxy Note 8