Reliance Jio has already shaken the roots of the Indian telecom industry by becoming the fastest cellular operator to achieve a staggering customer base of over 10 million and achieving various other such great feats. Telecom giants like Idea are posting their first ever loss in recent years. However, it seems now that Jio is trying to target on other sectors as well. Reliance Jio is all set to take on the on-demand video services like Netflix and Amazon Prime with its JioCinema app. With the updated version of JioCinema app, users can now even save TV shows and movies offline with an option to watch later.
JioCinema app has become very popular in the last few months thanks to its behemoth collections of Movies, TV Shows and other media contents which are made available to the users for absolutely free. You can currently watch online movies of last year like Mirzya, Mohenjo Daro, Baaghi, Bajirao Mastani and many others on the JioCinema. You can even watch classical Hollywood movies like The Godfather trilogy, Forrest Gump, etc. or popular Indian TV Shows like CID or Naagin for absolutely free. This isn't all, you can even enjoy content from various other Indian regional languages like Tamil, Telugu, Bengali, etc. as well on this amazing app.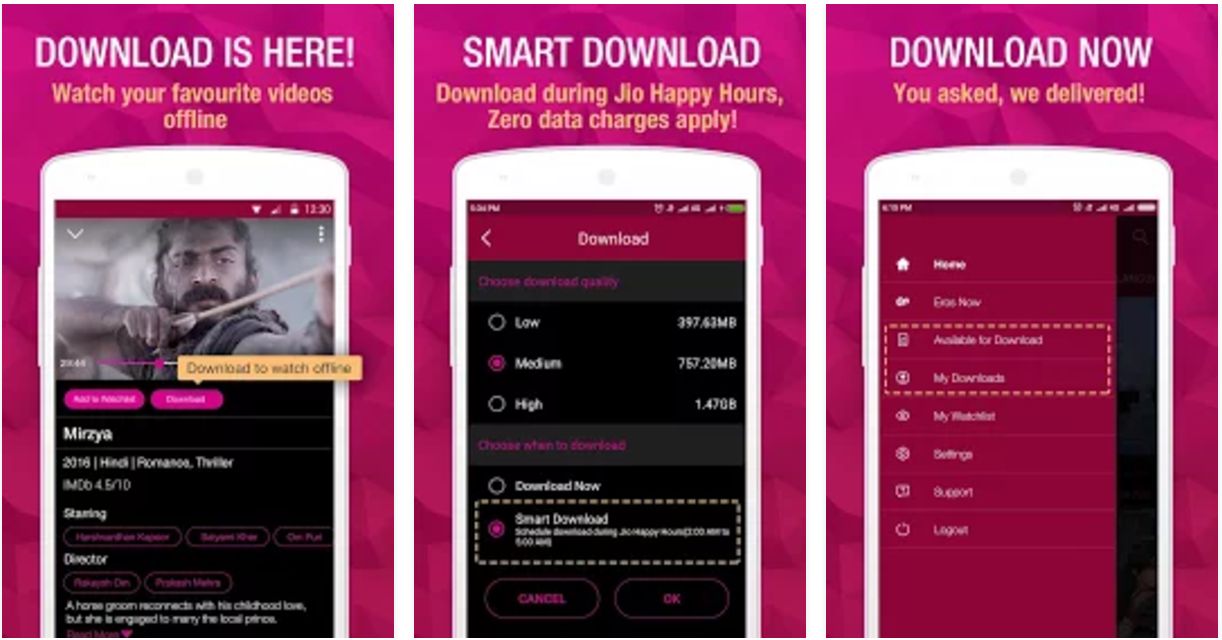 With the updated version of JioCinema app, users can even save TV shows and movies offline with an option to watch them later. JioCinema app is available on all platforms whether be it Android, iOS or Windows. The latest Android 1.3.3 version of Jio Cinema now has a dedicated download button which saves video for an offline watch. Apart from this incredible feature, the latest version also brings various bug fixes and other performance improvements.
The new download button also includes features like scheduled downloads. This smart scheduling allows users to avail benefits of Jio's Happy Hours feature, launched after the expiry of the Jio's 'Welcome' offer. Happy Hours lets users access the unlimited internet for three hours between 2 AM to 5 AM daily without any data cap. Under the updated and currently active 'Happy New Year' offer, Jio customers have a cap of 1GB high-speed 4G data for each day but the happy hours i.e., between 2 AM to 5 AM customers can use unlimited data on their active Jio connection. With the new scheduled download option, users can download movies over 1GB during happy hours and still enjoy free 1GB internet daily. However, this option is currently available only on the Android platform.
If you're wondering, how this can be availed, please rest assured as this is fairly simple and can be done in very few easy-to-follow steps. Here is how to start downloading movies for free from the JioCinema app and to watch them later:
STEP 1: First of all, Update your Android JioCinema app to the latest 1.3.3 version. Just head to Google PlayStore and check whether you have the latest version of the app or not.
STEP 2: Once the latest version is installed, browse through all the contents divided into different categories and choose what you wish to download.
STEP 3: Note that, not every content can be downloaded, so start better by filtering downloadable content to just "available for downloads".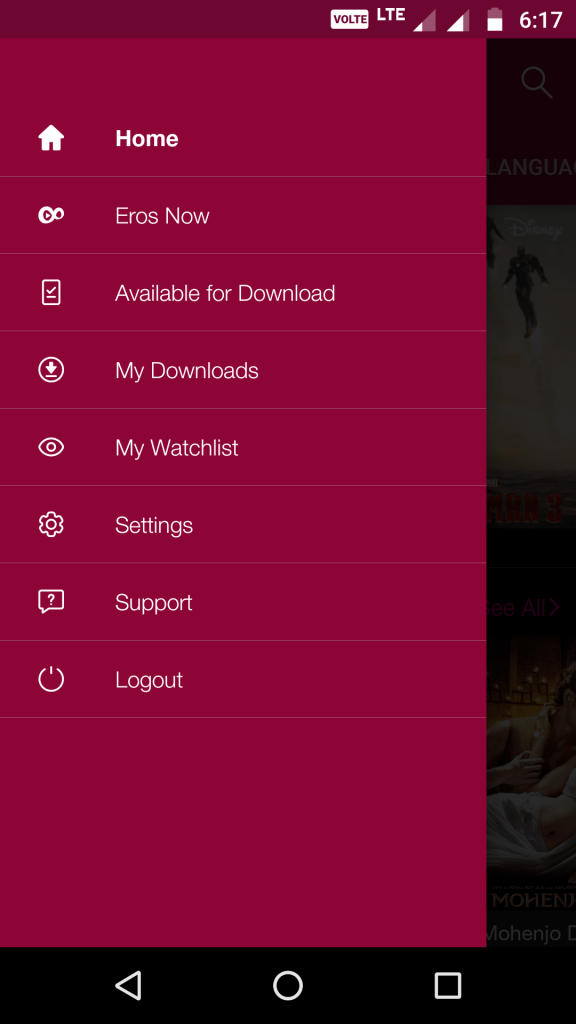 STEP 4: Tap open a title you want to download.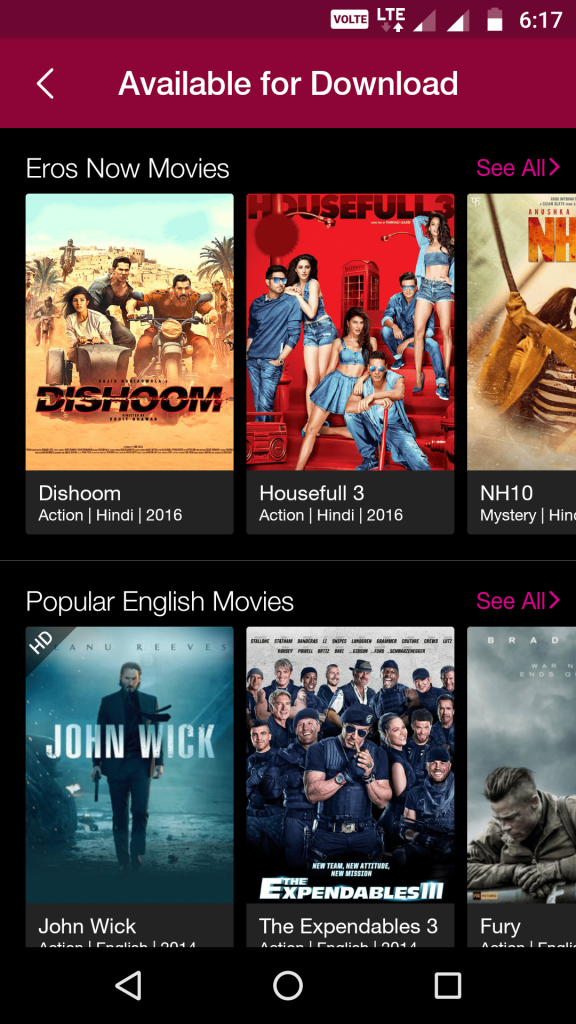 STEP 5: Now choose the available Low, Medium and High qualities option to download in your preferred quality and click 'OK' to start a download.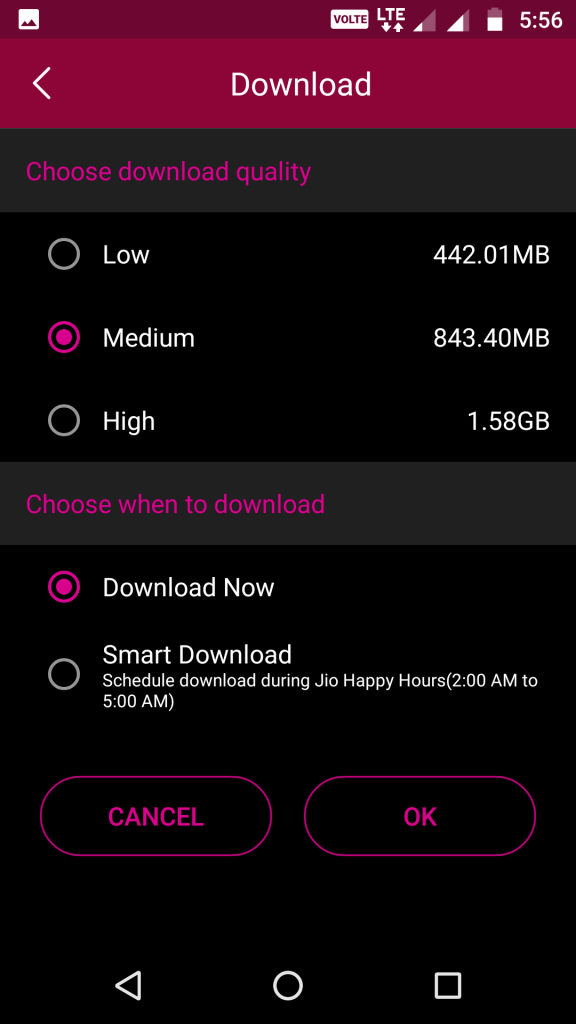 STEP 6: If you are worried about bypassing the 1GB data cap, then you can schedule the download between the happy hours. By doing this you can preserve your precious data and your daily quota of 1GB high-speed data will be safe.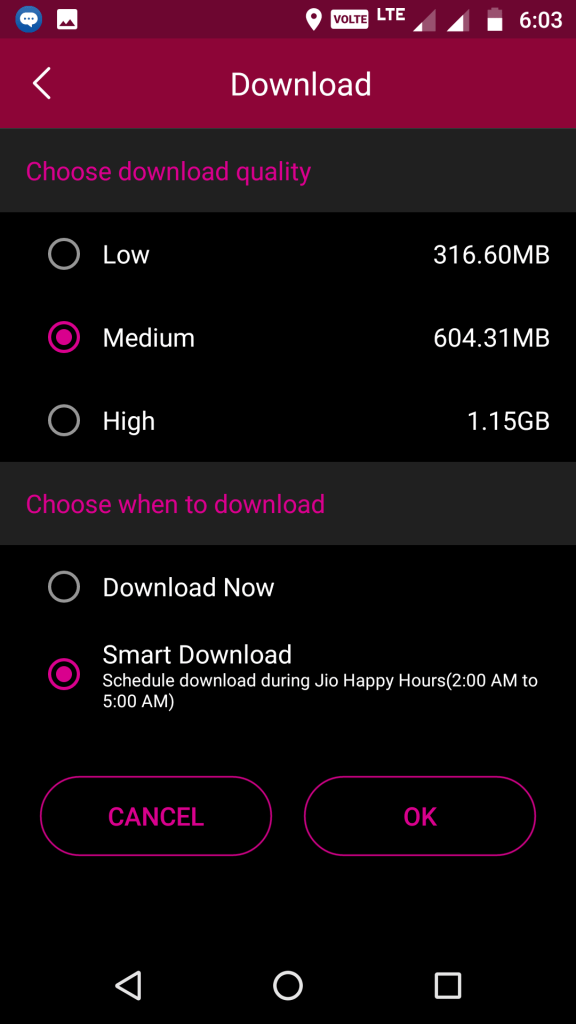 STEP 7: After you are finished downloading a movie you can retrieve it back from the "My Downloads" section in the main menu.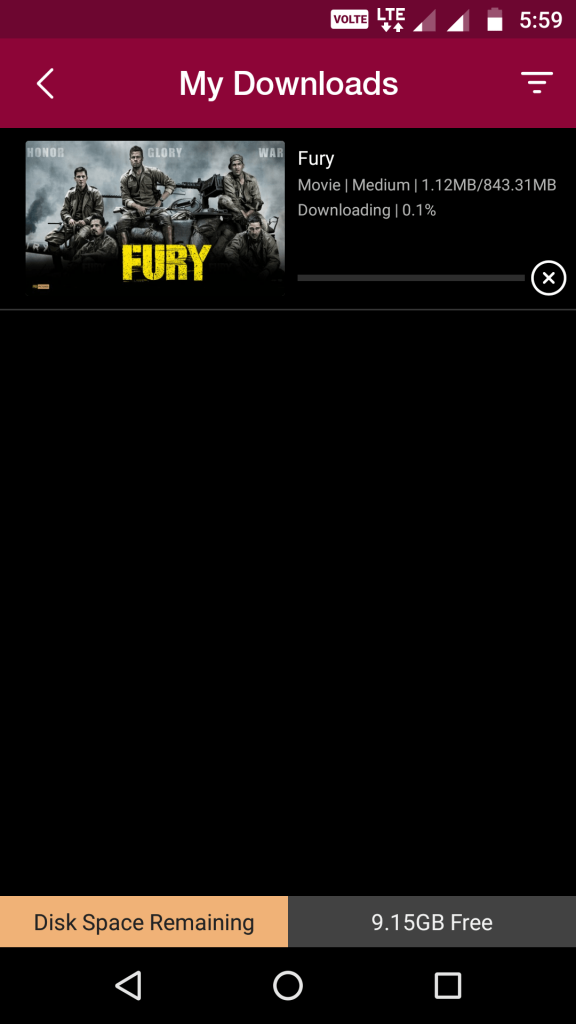 Please note that the 'download a video' feature is currently available only for Android devices and is expected to feature soon in the iOS version of the app. Jio has an UI similar to that of YouTube and it also suggests videos on the basis of the browsing preference of the user.
Exploit the smart download feature as much as you can till it is available. Download and enjoy your favourite TV shows and Movies in good quality for absolutely free using the JioCinema app and enjoy it at your own leisure. So happy watching. Please let us know if you face any issue in following this tutorial by posting your comments below. We would be more than happy to assist you. Adios.