So you are done with Amazon and now planning to get rid of it completely. But don't know how to delete Amazon account? Well, deleting an account to an internet service is not always easy. With some websites, it can be done in few clicks, while some take forever by making you jump here to there. There are also a few websites where you just stop paying and the site cuts you out automatically after a few days. But, Amazon is not one of them. If you want to close Amazon account then it will take you a while if you're not familiar with their process. But don't worry, we will help you delete your Amazon account in simple steps. Prior to beginning the process to deleting your Amazon account, let's first make sure of a few things.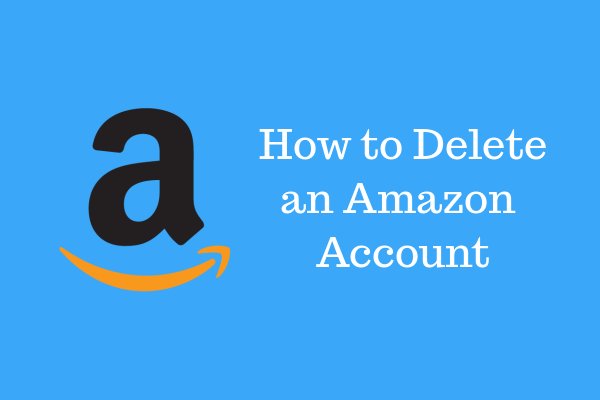 Before Deleting Amazon Account
Before you delete your buyer or seller Amazon account, you'll have to understand a few things.
Point 1: This is a permanent action. After the deletion of your account, Amazon will not be able to reinstate or reactivate your closed account.
Point 2: Closing your Amazon account will result in losing complete access to your account which includes viewing the history of purchased/sold items. It will also stop every under process returns and refunds, communicating with buyers and guarantee claims (for items bought/sold in past and future).
Point 3: For seller accounts, if you have any negative balance in your account then you will be solely responsible for it. Also, any future guarantee claims will be your responsibility.
Preparation to Close Amazon Account
Now that you have understood what will happen after you close your account, let's prepare for the process. Make sure of these points before beginning the process to delete your Amazon account.
Point 1: Make sure all the bought and sold items from your account are delivered.
Point 2: If there are any refunds or returns still under process, make sure they are fulfilled.
Point 3: For sellers, confirm that you have given your valid bank account info to receive the last payment.
Check Also: How to delete Gmail Account
How to Delete Amazon Account Permanently
After making sure all the important preparation is done, let us begin with closing your Amazon account for good. Follow the steps below.
STEP 1. Go to Amazon website on your browser. If you aren't already logged in, go to Account & Lists and select Sign in.

STEP 2. Sign in with your Amazon account, which you wish to delete.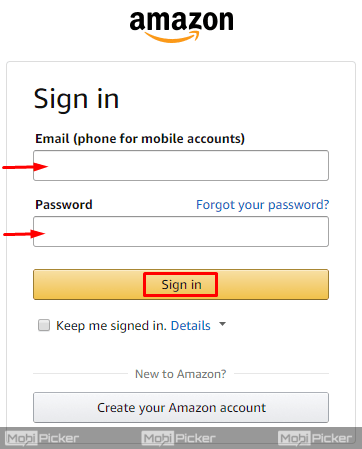 STEP 3. Check your orders to make sure there are no pending items to be delivered. If there are, you can cancel them or wait for them to deliver before continuing with the process.

STEP 4. Now, go to the bottom of the page. Under the Let Us Help You section, click on Help.
STEP 5. Now again, go to the bottom of the page. Under Browse Help Topics, look for Need More Help? Click on it to expand the options, and select Contact Us.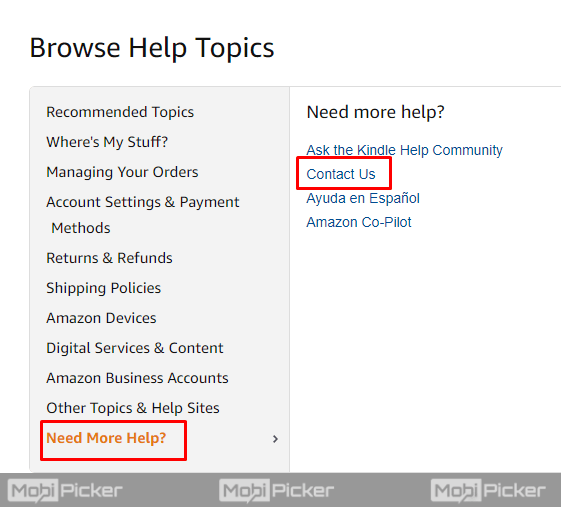 STEP 6. The last step will open a new page. Under "What can we help you with?" select tab Prime or Something else.

STEP 7. Now, you will see "Select an issue" under "Tell us more about your issue." In front of it, there will be a drop-down menu. Click on it to open it and select Login and Security.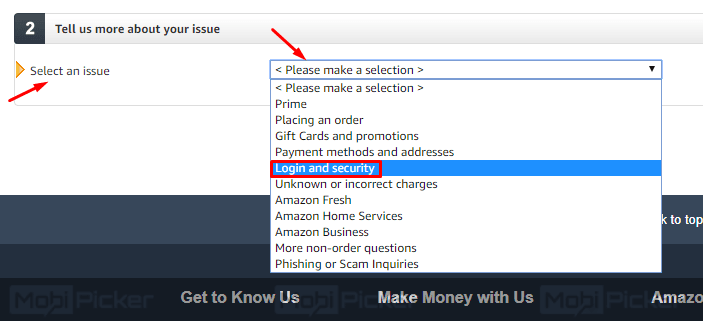 STEP 8. The last step will open a new drop-down menu, just below the last one. Click on it and select Close my account.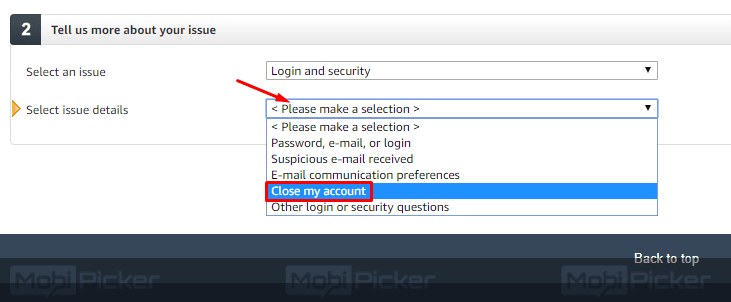 STEP 9. Below those drop-down menus, you will see some warnings. Read them and move onto next step.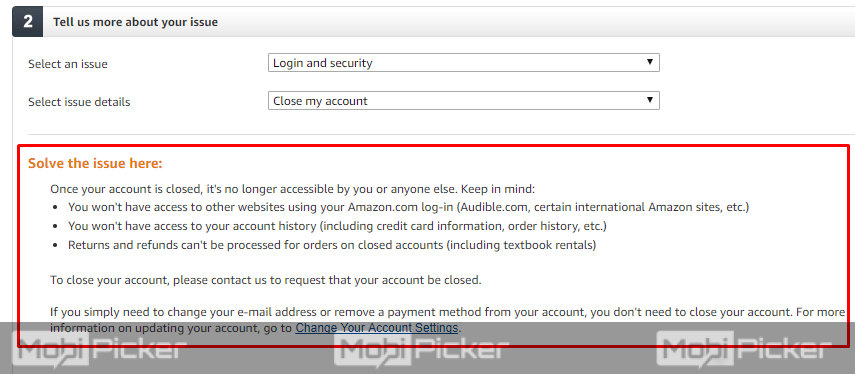 STEP 10. Under "How would you like to contact us?", you will see three options. Email, Phone, and Chat.

Clicking on them will give you different options to next step. Here are they:
Email: Clicking Email will open a page where you will be asked to enter the reason for deletion of your Amazon account. Write and click Send Email. After sending the email, you will receive a confirmation from Amazon's representative through email, usually within 12-24 hours.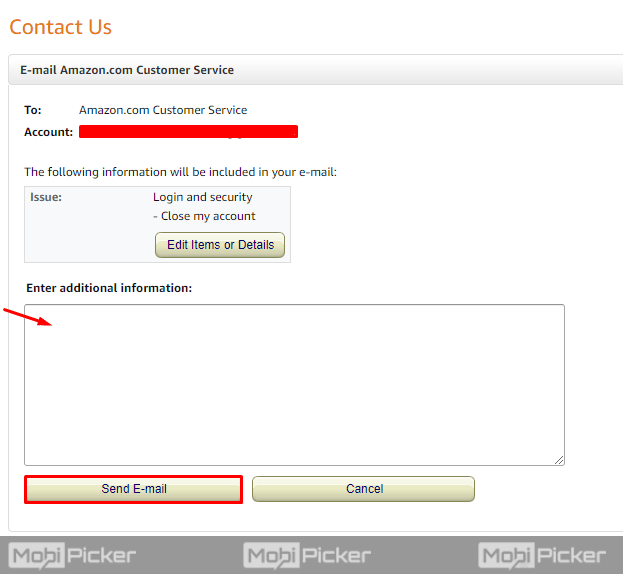 Phone: Clicking on the Phone button will open another page. Here, you will be asked to enter your contact number. After entering it and clicking on Call me now, a customer service associate will call you. You can also choose to select Call me in 5 minutes. When they call, tell them you want to delete your account. They will then give you a time frame, such as 12-24 hours, within which your account will be deleted.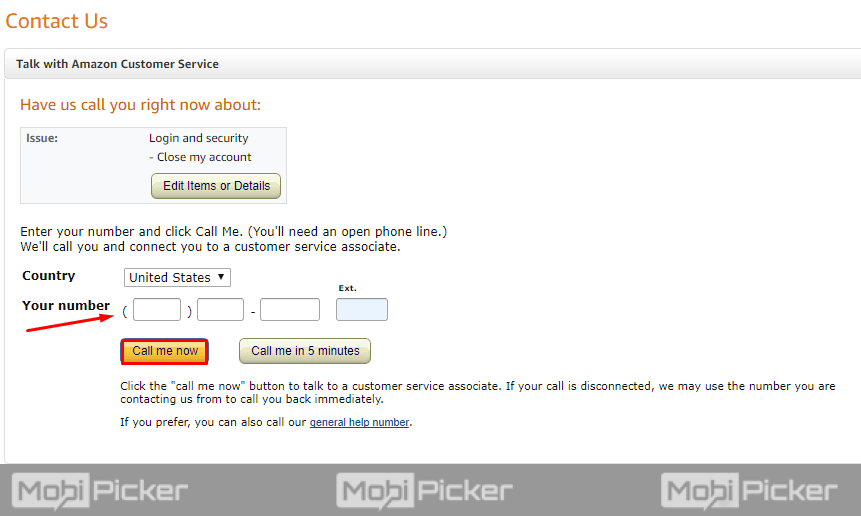 Chat: When you click on Chat, a new window will open up. Now you will have to enter your message and wait for a customer service representative to connect. After they come online, tell them that you would like to close your account. They will then give you a time frame, such as 12-24 hours, within which your account will be deleted.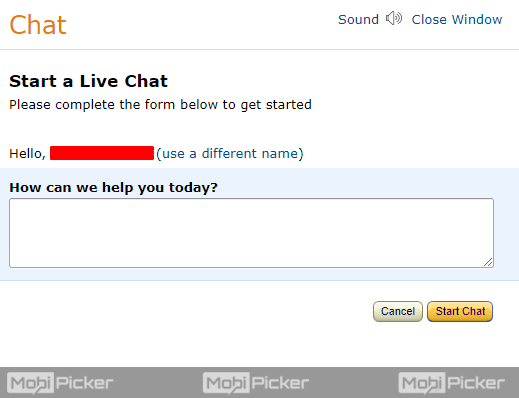 STEP 11. After completing the last step with an option, your Amazon account will be deleted permanently. You can confirm by trying to log in with your details after the time frame.
Deleting an Amazon account is a pretty long process. We hope with our guide, you were able to close and delete your Amazon account easily. If there are any issues, do contact us in comments.
Check Also: How to delete Skype Account