GTA V Online is still extremely popular. Rockstar is perfectly aware of this, so they revealed that the game will receive another multiplier mode. Dubbed "Inch By Inch", it will launch on April 12. The mode sets two teams of players one against another (duh) on a grass field. They have to carry a package to opponent's end zone. The catch is that the player who carries the package cannot use any weapon, meaning that teamwork is vital for victory. Although carrier can't fire, he can use "burst of speed" that can help him staying alive and delivering the package.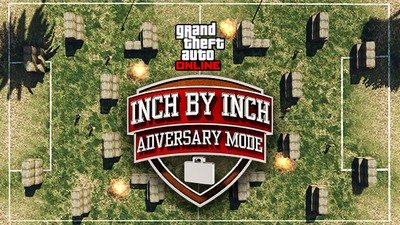 AS Rockstar stated, in Inch By Inch you'll "claw your way through a hail of bullets to reach your team's endzone." It sure sounds very interesting, but the drawback is that not a single gameplay video appeared.
Another new is that double XP weekend is planned for 8-14 April. By playing Adversary modes, you can get double RP and double GTA$. The Adversary modes that are part of the double XP weekend are not named yet, but since the weekend already started you can quickly check them out by entering the game. And for the end, if you're looking for a new weapon, Ammu-nation will offer discounts 'till April 14. For the full details, check out the list below.
GTA V Double XP weekend schedule
Friday, April 8th through Saturday, April 9th – Adversary Modes 1
Sunday, April 10th through Monday, April 11th – Adversary Modes 2
Tuesday, April 12th through Thursday, April 14th – Inch by Inch 1
GTA V Ammu-nation discounts:
Sniper Rifles – 25% off
Sniper Rifle Attachments – 50% off
Shotguns – 40% off
Shotgun Attachments – 30% off
Body Armor – 50% off