Rockstar Games announced an entirely new game mode for GTA 5 Online, called Rhino Hunt. As the title of the new mode suggests, players will go hunting. But they won't be hunting Rhinos, they will be hunting in one or two players using Rhino tanks. Players will have access to dune buggies and other fast moving vehicles and have to use sticky bombs to take down the tanks with superior armor and firepower. GTA V Online Rhino Hunt has three specially designed locations along with a great new playlist that players will surely enjoy listening to.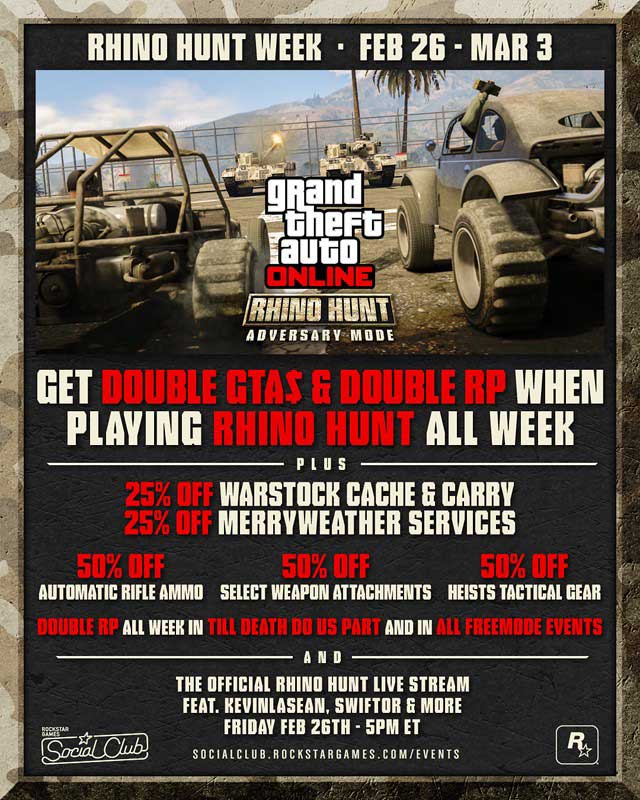 Rockstar also announced that they will be having a special week which will allow players to gain double the amount of reward points and in-game money when they play GTA V Online Rhino Hunt. Players will also be able to avail special discounts at Ammu-Nation, Merryweather Sevices and Warstock Cache and Carry to fill up on all the required supplies. The special week will end on March 3rd, so get everything ready before that. By the end of the week more offers and discounts will be announced, according to the development team.
GTA V Online has been received very well by gamers who are fans of the series and others as well. Rockstar has devoted a lot of time for releasing fresh content to keep the players happy and as of now they've done a pretty good job. Rumors also suggest that Rockstar might release a single player DLC which will unlock a new part of Los Santos and will feature a new protagonist too. Expect a huge announcement at E3 2016, where Take-Two, Rockstar's parent company, will have a major presence.