GTA 5 Online Bonus Week has been revealed by Rockstar. Recently, Rockstar also announced the Biker DLC for GTA 5 Online. Here are the details of the GTA 5 Online Bonus Week.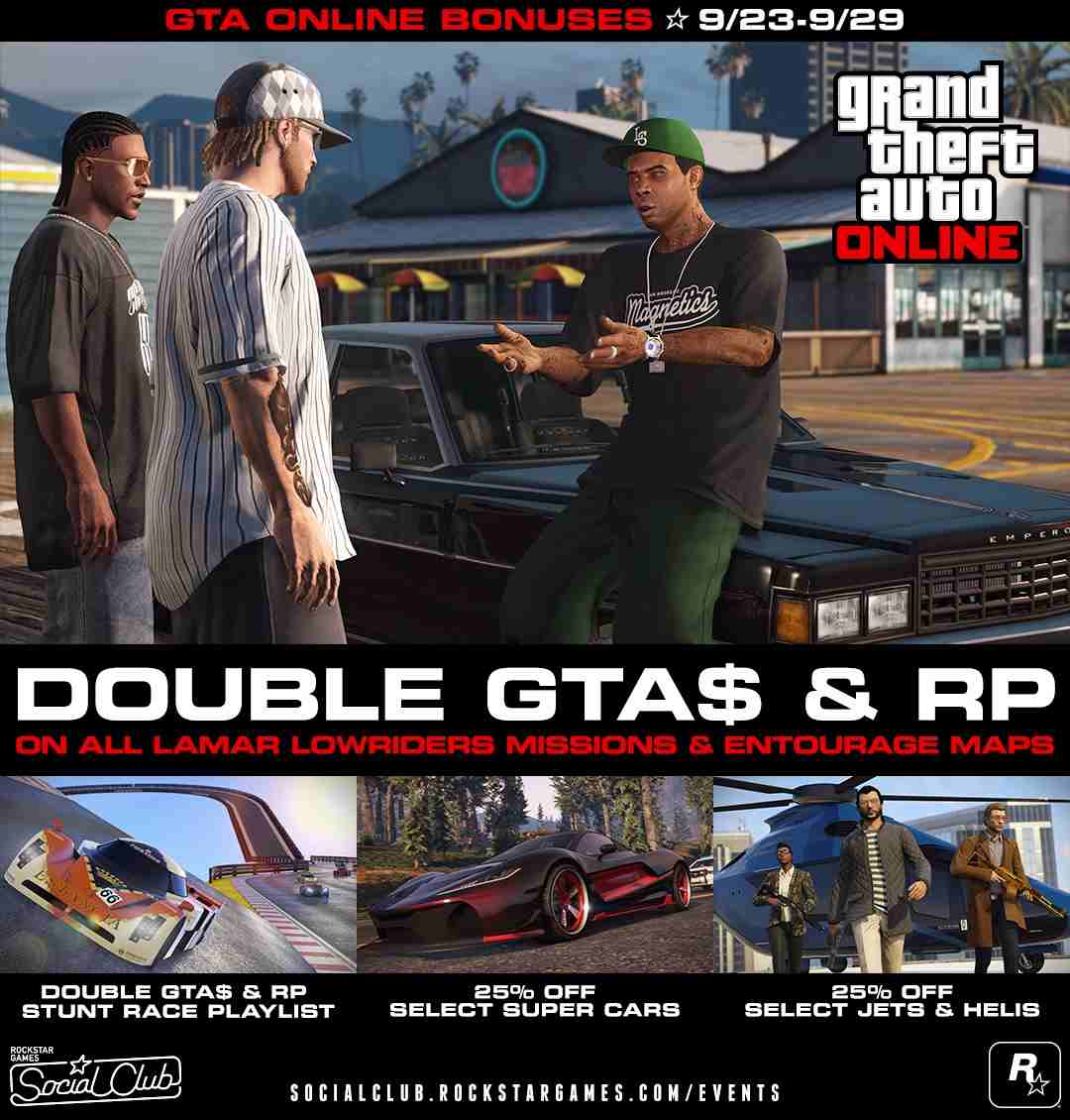 GTA 5 Online Bonus Week – Double GTA$ & RP
Lamar lowrider missions are offering Double GTA$ & RP. From the mission starting line at Benny's to the last chapter, Peace Offerings, you will receive double the money and experience. In Adversary Mode, gather up your squad for Entourage. From the bustling streets of Downtown and West Vinewood in Entourage I to Burton. And Alta in Entourage VI and everything in between. All six Jobs will be yielding Double GTA$ and RP.
Double GTA$ & RP in Stunt Playlist
Stunt races are now focused on Super Cars. Four locations will allow you to get Double GTA$ & RP. Chiliad, Plummet, Canyon Crossing, and Vespucci. Join by selecting the Stunt Race Playlist from the Rockstar Playlists in the pause menu.
25% off T20, Zentorino, and ETR1
Check out the sweet offers on select Supercars at Legendary Motorsport from now through September 29th to get 25% off the T20, Zentorno and ETR1.
25% off on Standard and Armored Baller
Both the Armored and Standard versions are 25% off at Legendary Motorsport.
25% off Buckingham Vehicles
Elitás Travel will have what you need to get you on your way with a 25% discount on these luxury air transportation. Volatus, Swift, Swift Deluxe, Luxor, and Luxor Deluxe.
Premium Stunt Races – East Coast
Starting today, win big while soaking in the ocean views in this week's Premium Stunt Race, "East Coast". Make your way to the yellow Premium Race Blip in Legion Square or join via the Quick Job App.
Grand Theft Auto V is an open world action-adventure video game developed by Rockstar North and published by Rockstar Games.
Let us know what you think of the GTA 5 Online Bonus Week.