GTA 5 Online Biker DLC has been announced by Rockstar in a Facebook update. You will be able to lead a group of 8 bikers as part of a separate MotorCycle Club. The DLC will introduce new roles to play from fresh Prospects to club Presidents with a massive slate of new competitive and co-op gameplay. There will be a range of new bikes. Properties that include MC Clubhouses with a special custom Biker mechanic, and venues for seedy business ventures.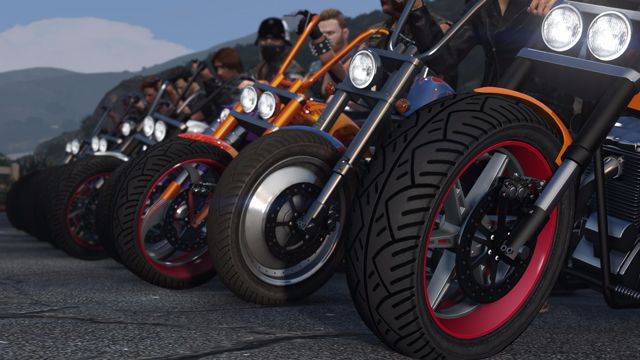 GTA 5 Online Biker DLC
Beyond a range of opportunities to climb the ranks within a gang. Build lucrative businesses as a formidable MC. Bikers also includes a selection of appropriately-themed new modes for bikers of all kinds, along with new weapons, styles, tattoos and features to make this a huge addition to the world of GTA Online.

Seize vertically integrated growth opportunities across a range of sectors with Businesses.

And while loyal MCs will fight to expand their foothold alongside black-collar CEOs and Organizations. There's always another opportunity to make your mark just around the corner. Keep an eye out for high-level, high-risk vehicle based business ventures to spring up across Los Santos and Blaine County soon.
GTA V Online is currently on going a bonus week with discounts on parachuting activities and weapons. New Adversary Modes like Power Play and Trading Places added an exciting new dimension to team-based games. Cunning Stunts took stunt racing to a new level with a radical new set of Races and vehicles, alongside Creator tools that allow the infinitely creative community to build and share their own Stunt Races well into the future.
Rockstar also announced a GTA 5 Online Stunt Track contest recently. The contest will allow fans to win a GTA$ 8,000,000. So far, the results haven't been announced but we will update you when that happens. The release date for GTA 5 Online Biker DLC was leaked on official forums recently and it appears Rockstar just teased the new DLC a day before the rumored date of 20th September. Regardless, we will be waiting for a full trailer from Rockstar for the GTA V Online Biker DLC.
Let us know what you think of the GTA 5 Online Biker DLC announcement.