We get a chance to show you some pretty cool stuff that you can expect in the GTA 5 Online Biker DLC Halloween event. An updated trainer allows users to mod certain features of the future update into the game. First of these is the new weather system to give the game a more spooky look in celebration of Halloween. The new weather system makes everything obnoxiously bright. The saturated glare definitely needs improvements at this point. And we're pretty sure that's what Rockstar plans to do when the Halloween event is officially unveiled. At the moment, though, we think the new weather system might be locked to Adversary Mode only.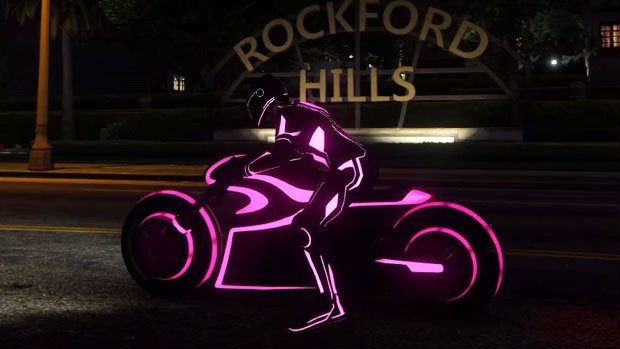 GTA 5 Online Biker DLC – New Tron outfits
A new Tron bike, complete with a Tron outfit, will also be made available. Pair it with the Halloween weather and you have ghost like figures zipping through the city at high speeds, leaving behind a greenish hue along their trail. You can cycle between orange, green, yellow and purple.
There's also a black outfit in the game that doesn't glow at all. It could be that Rockstar added it for stealthy gameplay. At the moment this is all that has been made available through data mining of the new update so far.
Grand Theft Auto V is an open world action-adventure video game developed by Rockstar North and published by Rockstar Games. It was released on 17 September 2013 for the PlayStation 3 and Xbox 360, on 18 November 2014 for the PlayStation 4 and Xbox One, and on 14 April 2015 for Microsoft Windows. The game is the first main entry in the Grand Theft Auto series since 2008's Grand Theft Auto IV. The game is set within the fictional state of San Andreas, based on Southern California.
Let us know your thoughts about the new GTA 5 Online Biker DLC in the comments.