Rockstar has confirmed what we already knew thanks to a leak by GTA 5 tipster Yan2295: the Tornado will be getting the Lowrider treatment over at Benny's, turning it into quite the beaut. As leaked by Yan2295, the Declasse Tornado Custom will be headed to GTA 5 on April 5th.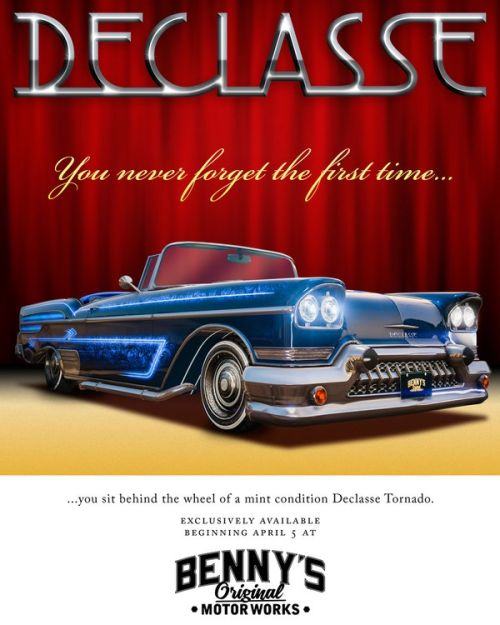 Coming next week Tues April 5 to Benny's Original Motor Works
The Declasse Tornado Custom#GTAOnline pic.twitter.com/ZH0KIgtc6Q

— Rockstar Games (@RockstarGames) March 31, 2016
Apart from the Tweet above, Rockstar also updated their blog to let you know about the new addition to Benny's:
Benny's Original Motor Works' spring inventory adds a bona fide classic next week – the Declasse Tornado Custom, coming this Tuesday April 5th. Unlock the full potential of this beauty with a glorious range of upgrades at Benny's, including expressive and eclectic Livery choices, an abundance of roof design options and many more.
Apart from this new Custom, there will also be new SUMO maps added to the game. In Sumo V, you get taken high above the SS Bulker at the docks, while in Sumo VI you will contend on the roof at the Sightings Bar & Restaurant at the airport. Speaking of Sumo, I really wish someone organises those in real life. Just saying.
To celebrate this new update, Rockstar will be holding a promotion through April 7th, during which you will get Double RP opportunities in curated playslists and Sumo Adversary Modes as well as Contact Missions from GTA Online: Lowriders. You'll also get deals on custom body mods and lots of discounted items from the first Lowriders update.
For more details, check out Rockstar's official blog post. The event seems really intricate. There will also be a Tornado Week, involving live streams over at Rockstar's Twitch and YouTube channels.