Rumours in the GTA V community at the moment suggest that the upcoming DLC teased by Rockstar Games for GTA Online may have been delayed. The source of this rumour is that the current event week going on for the game is making certain tipsters think so. Where are the "Cunning Stunts" and "Finance and Felony" DLC that Rockstar recently promised?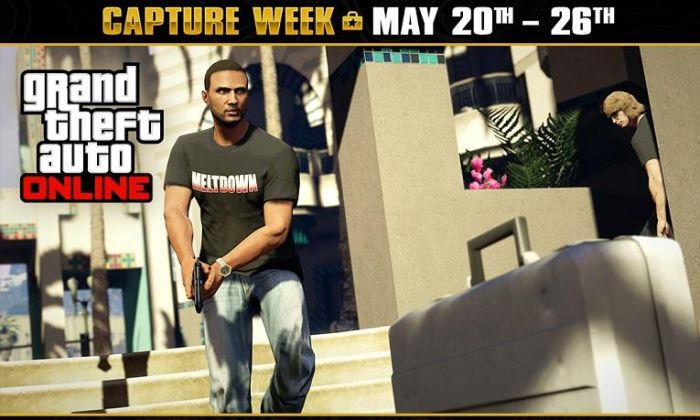 The current event week going on started on Friday, May 20th and is called the Capture Week. You get double cash and RP for all Capture Jobs in GTA Online this week, ending Thursday, May 26th. Apart from this, you'll also get seemingly random promotions, like 50 percent off the Luxor Deluxe private jet, 50 percent off the Kuruma sports car, 50 percent off certain engine and brake mods, 50 percent off Heist clothing and 50 percent off explosives. Simply logging into GTA Online this week will also grant you a free in-game 'Meltdown' T-Shirt.
According to tipster Yan2295, however, this event week was put together because Rockstar had nothing else to run for the week. This makes him think that the DLC has in fact been delayed. As iDigitalTimes notes, the current event week does not bear a thematic resemblance to either of the upcoming DLCs. Do you think the GTA Online DLC has been delayed? Let us know what you think in the comments below.